Area Director of Sales & Marketing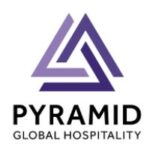 Pyramid Global Hospitality ("Pyramid") is a leading hotel management company, operating in the US, Caribbean, and Western Europe. With portfolio revenues exceeding $3 billion, Pyramid manages 220 hotels, resorts, and conference centers, both branded and independent. The firm maintains offices in Boston (Headquarters), Cincinnati, Houston, and London.
What really sets us apart from its competitors is our reputation as an employer. Professional growth is not just possible throughout the company but planned and encouraged. The Leadership Team at Pyramid consider team member development its priority, understanding that success is only achieved in a workplace where every contributor is respected and recognized. This is why we deliver superior results.
In addition to competitive salary and bonus packages we also offer a comprehensive benefits program.
Medical, dental and vision insurance
Supplemental Medical insurance
Basic Life and accidental dismemberment
Life insurance buy ups
Employee assistance programs
Competitive matching 401 k
Pet insurance
Hotel discounts program
Paid time off
Overview
We currently have an opening for an Area Director of Sales & Marketing for four hotels in the Portland area – the Benchmark Portland Hotel Collection. This position would not be remote, but would work out of the Sentinel Portland Hotel, with occasion travel required. The ideal candidate will lead and manage the Sales team ensuring a high level of professionalism, guest service and profitability. Develop business leads, solicit potential clients, service existing accounts, sell all hotel facilities, target business in assigned market segment and meet and exceed sales goals for rate, occupancy, and revenue.
The Area Director of Sales will be a strategic commercial leader who can clearly identify emerging trends and develop strategies aimed at business sectors including sports and entertainment, Technology and Biotech.
Responsibilities
Execute sales activities to achieve budgeted goals.
Research, analyze, and monitor financial, technological, and demographic factors to capitalize on market opportunities and to establish a leadership position in the market.
Play a pivotal role in hotel sales efforts, including calling on top ten accounts, meeting clients, hosting luncheons and receptions, and meeting with on-site contacts on a daily, weekly, and monthly basis.
Plan and participate in Sales trips and industry related meetings as appropriate to the assigned markets/territories.
Assist in the annual budgeting plan.
Negotiate with clients and achieve maximum revenue/profit potential while satisfying clients' needs.
Enhance the hotel's community image by actively participating in associations, events, clubs, and boards.
Assume active ownership of assigned sales territory and respond to specific market needs, initiates needed action and suggests to sales leadership
10% travel required
Qualifications
Bachelor's degree in Business Administration, Marketing, or a related field.
Proven experience in a similar role in the hospitality industry, with a minimum of 5 years of sales management experience.
Strong understanding of sales strategies, market trends, and competitor analysis.
Excellent leadership and managerial skills with the ability to effectively manage and motivate a sales team.
Demonstrated success in achieving sales targets and driving revenue growth.
Compensation Range
The compensation for this position is $150,000.00/Yr. – $160,000.00/Yr. based on qualifications and experience.
Let them know you found it on PDX Pipeline!