Gluten Free Gem Bakery Hosts Saturday Pop-Ups in NE Portland | Order in Advance for Zero Contact Pickup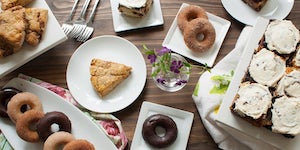 Gluten Free Gem Bakery Saturday Pop-Ups
Order by Wednesday for Saturday pickup at glutenfreegem.com
Gluten Free Gem
140 NE Broadway St, Portland, OR 97232
Gluten free bakery Gem is now offering special pop-ups at their retail cafe for Saturdays in the month of May. Advance ordering required, see details on website.
Each week will feature a slightly different menu which may include Muffins, Donuts, Strawberry Cheesecakes, Vegan Lemon Rhubarb Swiss Rolls, Whole Quiches & Tarts, as well as a full lineup of Take & Bake Pastries.
Delivery to grocery stores beginning May 21st.