December First Thursday Art Opening @ The Goodfoot Pub & Lounge | "Impersonating an Artist: The Smallest of Something" Featuring Jason Brown
From our sponsors: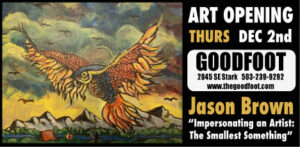 First Thursday Art Opening
December 2, 2021
5PM-2AM
More info: thegoodfoot.com
Goodfoot Pub & Lounge
2845 SE Stark St., Portland, OR 97214
This will be the first proper art opening Goodfoot has had since the Covid .. . been almost 2 years since we've had an art opening. . . what better way to start it off than with the resident artist / curator of the Goodfoot from the last 20 years. . . Jason Brown. . . (me) . . . Just like everyone… we all were affected some way… large or small… by the Covid… my own life… my mother had just died right before…I got stranded down in Idaho for a year… I spent an amazing amount of time with my father… getting to re know each other as an adult… got closer to my own family… I tried to make the best of things…stay positive. . . I swam in the rivers… sat in the creaks… cooked food… lots and lots of banana bread…fished…stared at sunsets… and sunrises… the moon .. . sat around fires .. . watched a lot of news. . . . I started building bird houses… I painted… they were my therapy… these are the things that kept me sane… well as sane as I am… made me survive…filled my morning panic with something else. . . then I broke both my legs… spent the last year relearning how to walk… doin' some art .. . now I just try and make the smallest of something… a hot shower… the birds chirping in the morning…the rain… a garden growing… music .. . trying to heal… yet feeling defeated…a lot of alone time .. . but still waking up each morning… impersonating an artist and making the smallest of something… is what I have!
This show is some a the art I've done over the last year.. Along with some collaborations with Mayfair, Zak Gere, Josh Burd, Beth Myrick, Jeremy Schultz, Kelly McNiece, Sincanvas, Joel Barber, Kyle Gossman. I'll also be releasing a couple new art prints from some older work.
Jason Brown is the resident artist of the Goodfoot, along with curating the art shows there for the last 20 years.