Explore Oregon's Hood River Fruit Loop | Summer Fruit, Sunflower Fest, & More!
From our sponsors: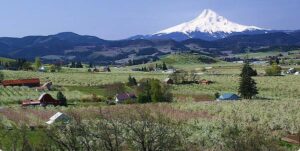 Hood River Fruit Loop
More info: hoodriverfruitloop.com
The Hood River County Fruit Loop is 35 miles of orchards, forests, farmlands, and friendly communities. Along the Loop are 27 visitor-friendly businesses that include farmstands, wineries, lavender fields (including a new lavender stand, Hope Ranch Lavender), and gift stores. See hoodriverfruitloop.com to find information about these events and more, along with details about each Fruit Loop business and a downloadable Fruit Loop map.
AUGUST 1-31: Apple Valley Country Store & Bakery Summer Fruit Celebration
2363 Tucker Road,
Hood River AppleValleyStore.com ~ 541-386-1971
All month long, we celebrate summer fruit. Daily: Huckleberry milkshakes, fresh picked apples, berries, 1st apple pies of the year, scones and cookies, jams, jellies, syrups, sauces, and more. Weekend specials: apple crisps and berry cobblers, caramel apple dumplings and other special treats.
AUGUST 10-31: Draper Girls Country Farm U-Pick Extravaganza: Peaches, Pears & Apples
6200 Highway 35, Parkdale, OR
drapergirlscountryfarm.com ~ 541-490-8113 or 541-352-6625
Many varieties to pick, including nectarines and berries! Take home some dahlias from our u-cut fields while you visit our gardens. Say hi to the farm animals on your way to the Country Market, where you'll and jams, jellies, fresh ciders and our award-winning hard cider. Don't miss this!
AUGUST 5-21: Packer Orchards & Farm Place Sunflower Festival
3020 Thomsen Road, Hood River
PackerOrchards.com ~ 541-234-4006
U-pick from our field of giant sunflowers, one weekend only! Spend the day on the farm picking flowers, enjoying live music, great food, and family fun! Peaches at their sweetest, try all our varieties and take home a fresh pie. Visit our website for admission prices and to discover more Sunflower Festival activities.