From our sponsors: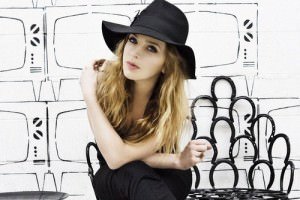 ZZ Ward
September 2, 2013
Doors 7 p.m. / Show 8 p.m. | $15 ADV/$17 Doors | All Ages
Tickets: aladdin-theater.com
Aladdin Theater
3017 SE Milwaukie Ave Portland, OR 97202
(503) 234-9694
By all accounts, 2012 was a banner year for up-and-coming blues-hop/soul singer ZZ Ward. Releasing the mixtape Eleven Roses in January, the Criminal EP in May and her full-length debut Til the Casket Drops in October, the reaction to ZZ's unique blend of swampy blues and hip hop beats was palpable from both critics and fans alike. ZZ has appeared on The Tonight Show with Jay Leno, Conan, Last Call with Carson Daly and Jimmy Kimmel Live.
She's also had her music featured on ABC Family's Pretty Little Liars, MTV's Awkward and in promos for ABC's hit series Nashville. On the touring front, ZZ and completed a 50-date headlining American tour with sold-out dates in Los Angeles, New York, San Francisco, Denver and Nashville. Ward is still in awe of the buzz that has continued to build around her and her music this past year.
"That was the first year I played in cities I'd never been to, and yet I had fans there," says Ward. "They came to the shows, knew the lyrics, and had already connected with the songs. It was fun, but surreal."
Ward, whom NPR recently declared "is going to be a star," and whose vocal prowess Rolling Stone has praised as being "chill-inducing," has been gradually working her way into the music scene since she began performing for her father's blues band at age 13. Growing up in rural Oregon, her love of hip-hop and rap eventually took her to the nearby college town of Eugene, where she sang choruses at underground hip-hop clubs for local rappers. Despite these experiences though, she struggled to reconcile her love of blues, hip-hop, soul and rock on a professional level.
"It took me a while to embrace the sort of music I wanted to make and accept that making it for myself was enough," Ward says. "I just wanted to write songs that I loved, so that's what I did on this record."
2013 is promising to be even busier for Ward. She's already appeared on Conan, Last Call with Carson Daly and Jimmy Kimmel Live, is headlining her second U.S. tour and will be making the summer festival rounds including Sasquatch, Firefly, Wakarusa, Summerfest, Bumbershoot, Life Is Beautiful and Voodoo Music Fest. If you thought 2012 was a great year for Ward, 2013 is going to prove the best is yet to come.
The Wild Feathers
Ricky Young, Joel King, Taylor Burns and Preston Wimberly, grew up steeped in music; playing solo gigs, touring with local bands and working at venues. The four guys came together in Austin in 2010 through coincidence, mutual friends, and a shared love of the classics: Petty, Dylan, Cash, The Band, Allman Bros, Neil Young and Willie Nelson. They immediately began playing together and became The Wild Feathers. The young band spent the next year writing and defining their sound and touring around the country, sharing the stage with Delta Spirit, Surfer Blood and The Heavy, even landing an opening spot on Paul Simon's 2011 fall tour. The Wild Feathers are a truly American band: their music takes elements of the best of rock, country, folk and blues music and reshapes it in a way that is both unique and modern.
James Bay
James Bay is a young singer-songwriter based in Hitchin.