From our sponsors: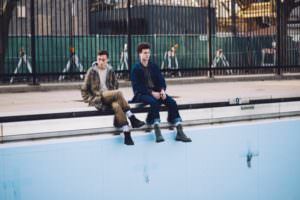 Whitney
April 12, 2017
Doors 8 p.m., Show 9 p.m. | $15 ADV, $17 Doors | All Ages
Tickets: revolutionhall.com
Revolution Hall
1300 SE Stark St, Portland, OR 97214
Whitney make casually melancholic music that combines the wounded drawl of Townes Van Zandt, the rambunctious energy of Jim Ford, the stoned affability of Bobby Charles, the American otherworldliness of The Band, and the slack groove of early Pavement. Their debut, Light Upon the Lake, is due in June on Secretly Canadian, and it marks the culmination of a short, but incredibly intense, creative period for the band. To say that Whitney is more than the sum of its parts would be a criminal understatement. Formed from the core of guitarist Max Kakacek and singing drummer Julien Ehrlich, the band itself is something bigger, something visionary, something neither of them could have accomplished alone. The band itself is something bigger, something visionary, something neither of them could have accomplished alone.
Ehrlich had been a member of Unknown Mortal Orchestra, but left to play drums for the Smith Westerns, where he met guitarist Kakacek. That group burned brightly but briefly, disbanding in 2014 and leaving its members adrift. Brief solo careers and side-projects abounded, but nothing clicked. Making everything seem all the more fraught: both of them were going through especially painful breakups almost simultaneously, the kind that inspire a million songs, and they emerged emotionally bruised and lonelier than ever.
Julie Byrne
Sometimes it can take years to find your calling. Not so for Julie Byrne, whose power of lyrical expression and musical nous seems inborn. Her second album, Not Even Happiness, has evolved at its own pace. It spans recollections of bustling roadside diners, the stars over the high desert, the aching weariness of change, the wildflowers of the California coast, and the irresolvable mysteries of love. Teaching herself guitar, having picked it up when her father became ill and could no longer play, Byrne also admits she can't read music and doesn't even listen to it all that much—her own vinyl was the first in her possession. "Without possessing the right words, I'd describe to [producer] Eric Littman (Phantom Posse) and Jake Falby (who contributed strings) the feeling I wanted a song to evoke, or I would take a shot at singing what was in my head. Though over all, their contributions to the record are entirely their own vision and their own power." The follow-up to 2014's critically lauded Rooms With Walls And Windows, this latest offers a bigger picture through a wider exploration of instruments and atmospherics, revealing an artist who has grown in confidence over time. Whether witnessing the Pacific Northwest for the first time ("Melting Grid"), the morning sky in the mountains of Boulder ("Natural Blue"), or a journey fragrant with rose water or reading Frank O'Hara aloud from the passenger seat during a drive through the Utah desert into the rainforest of Washington State ("The Sea As It Glides"), Not Even Happiness is Byrne's beguiling ode to the fringes of life.