From our sponsors: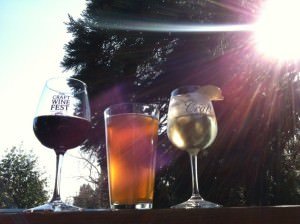 The Craft Winefest
June 12-14, 2015
June 12th – 3pm-10pm
June 13th – Noon-10pm
June 14th – Noon-7pm
$16 ADV / $20 Day Of
General $16 / VIP $50-55
Tickets: thecraftwinefest.com
Esther Short Park
415 W 6th St, Vancouver, WA 98660
The Craft Winefest is where we showcase Washington wineries, breweries and distilleries! 2015 is our third year of this community event and we look forward to seeing you June 12-14th, at Esther Short Park, Downtown Vancouver, USA, where we will gather the best craft wines from Washington State, 25 local beers from local breweries, arts/craftspeople, live music and great food for a weekend of fun!
Enjoy a Moscow Mule in our special VIP Pavilion with our discounted VIP tickets.
Come back for Beers, Bloodys and Blues, a Bloody Mary themed Sunday at the park where we showcase a Bloody Mary bar brought to you by Oliver's Gourmet! Best Bloodys in town!
The Craft Winefest of Vancouver features wineries from all over Washington State including our own Clark County, Walla Walla, and Yakima Valley region. All beer and food is local, and tested, tried and true.
Admission tickets for the 2015 Craft Winefest of Vancouver are on sale now. Admission is $16, and includes entry and re-entry good for all three days of the festival, a glass and tasting tickets. Tickets will be $20 at the gate if you don't have a presale purchase.
Tasting tickets are $1 each and tastings fees will vary by price of wine. Most tastes will be $1-$2. Full glasses are available, and there will be plenty of un-corked bottles you can take home.
A limited amount of single day VIP passes are available and include entry, VIP pavilion access, a commemorative wine glass, ten tasting tickets, a meal voucher, a cheese and fruit platter, and a private wine bar stocked with 40 select wines and Moscow Mules. If you plan on staying a while, get the VIP pass, and experience the good life.
The Craft Winefest of Vancouver hours are from 3:00 p.m. to 10:00 p.m. on Friday, June 12, from Noon to 10:00 p.m. on Saturday, June 13, and from Noon to 7 pm on Sunday, June 14. Event admission can be purchased in advance online at www.TheCraftWinefest.com, or at the gate on event day.