From our sponsors: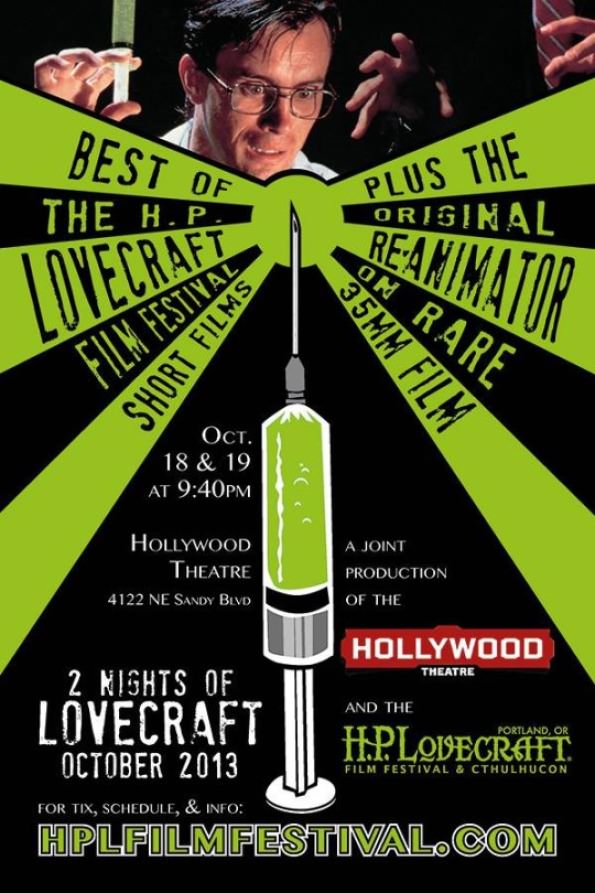 Two Nights of Lovecraft
October 18-19, 2013
9:40 p.m. | Single Day $8 / 2-day Pass $14
Tickets: bit.ly/1agAOK3
More info: hplfilmfestival.com | Facebook
Hollywood Theater
4122 NE Sandy Blvd Portland, OR 97212
(503) 281-4215
Don't miss this special two night event, featuring the Best of the H.P. Lovecraft Film Festival short films and Stuart Gordon's Re-Animator on rare 35mm.
Friday Oct 18th @ 9:40 pm: The Best of the H.P. Lovecraft Film Festival – Join us for a block of rare, classic shorts, audience favorites from the past couple of years, plus sneak peeks at what will be playing at the 2014 H.P. Lovecraft Film Festival & CthulhuCon (coming up April 11-13, 2014).
Saturday Oct 19th @ 9:40 pm: Re-Animator on 35mm – First up is a small block of more short films, followed by a rare screening of the cult classic Re-Animator from a pristine 35mm print, courtesy of producer Brian Yuzna and the Hollywood Theatre's sweet film archive!