From our sponsors: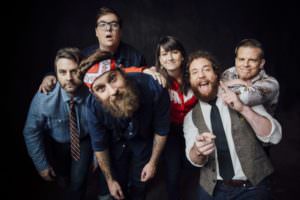 The Strumbellas
May 25, 2017
Doors 7 p.m., Show 8 p.m. | $25 | All Ages
Tickets: revolutionhall.com
Revolution Hall
1300 SE Stark St, Portland, OR 97214
When a crowd is feverishly singing along with the last chorus upon first listen, you know it's a song that connects. This is what happens when The Strumbellas play 'Spirits' live for the first time, the first single from their new album, Hope (released April 22nd). That experience embodies the essence of what has been attracting fans from across North America to this six-piece Lindsay, Ontario-bred band.
The Strumbellas got their start in 2009 with their eponymous EP release, which was peppered with accolades from Toronto weeklies and prompted a proclamation from the CBC that they are a "band to watch." Since then, the group has been on the road earning their stripes through sold-out residencies at different clubs in Toronto, as well as several cross-country tours and summer festivals.
In 2012 the band released their debut album My Father And The Hunter, an album full of haunting lyrics fused with infectious and danceable melodies that won them both fans and critical recognition across multiple genres of music. Earning them a coveted JUNO nomination, the album offered a beautiful, harmonious dichotomy between melancholy heartbreak and blow-the-barn-doors-off spunk, a sound that would become synonymous with their music.
A year later, The Strumbellas followed-up with their sophomore album We Still Move On Dance Floors, which earned them six awards, including their first JUNO award. In May 2014 they laid claim to the SiriusXM Indies award for Folk Group Of The Year and in June they earned the title, Polaris Music Prize nominee, when the album nabbed a spot on the prestigious prize's coveted Long List. Later that year they won the Ottawa Folk Festival's Supernova Rising Star Award and nabbed the Canadian Folk Music Award for Contemporary Album Of The Year. They capped off the year by winning CBC Music's Rising Star award in December.
2014 was a year of touring. There was no fixed address for the six-piece as they crisscrossed North America from New York to Austin to Vancouver Island, up to the Northwest Territories, across the prairies and beyond!
Reuben and the Dark
Calgary's Reuben and the Dark is a collection of five multi-instrumentalists and vocalists led by Reuben Bullock. The group makes chilling, emotive folk and soul driven by dark, introspective lyrics that explore the duality of misery and joy.
Boasting a rare chemistry between all members across western Canada, Reuben and the Dark has emerged organically from Canada's stellar independent scene on the strength of often anthemic compositions that translate the language of emotion into song with haunting clarity.
Their debut album is produced by the UK's Chris Hayden (Florence & the Machine) and Canada's Stephen Kozmeniuk (Madonna, Nicki Minaj, and The Game feat Kanye West) and is being mixed by Jim Abbiss (Arctic Monkeys, Adele).