From our sponsors: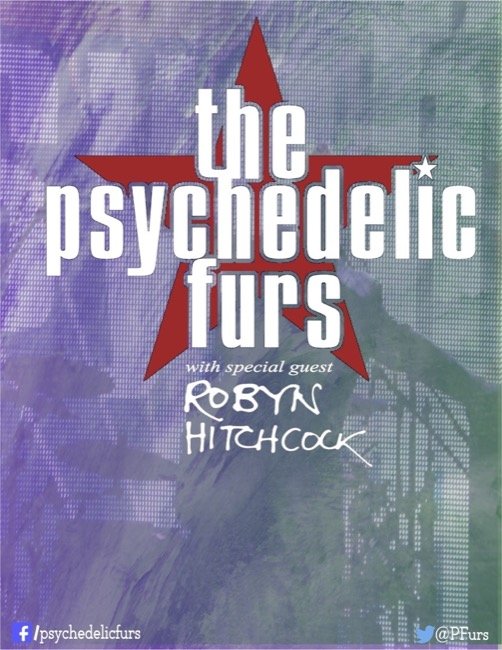 The Psychedelic Furs
w/ Robyn Hitchcock
July 22, 2017
Doors: 7 pm / Show: 8 pm | $39.50 ADV / $42 DOS | 21+
Tickets: revolutionhall.com
Revolution Hall
1300 SE Stark St, Portland, OR 97214
971 808 5094
The Psychedelic Furs
If you were to dissect the today's alternative rock music, you'll find that much of it pays homage to The Psychedelic Furs. Led by vocalist and songwriter Richard Butler, and his bass-wielding brother Tim, the Furs scored major hits with "Love My Way," "Pretty In Pink," "Heaven," "The Ghost In You," and "Heartbreak Beat" in all releasing seven studio albums, spawning several compilations, a boxed set, and a live concert DVD.
Born out of the post-punk UK rock scene, the Furs quickly developed as one of the premiere bands on US College and Modern Rock radio scoring a multitude of #1 singles. With the advent of MTV in the early 80's the band took off into the stratosphere, and when John Hughes' approached the band with his film built around the Furs' song "Pretty In Pink", the band's legacy was cemented.
After a brief hiatus in the 90's, and a side project called "Love Spit Love", the band regrouped at the dawn of the new millennium.
The Psychedelic Furs touring lineup remains Richard Butler (vocals), Tim Butler (bass), Rich Good (guitar), Mars Williams (saxophone), Amanda Kramer (keyboards), and Paul Garisto (drums).
Robyn Hitchcock
Robyn Hitchcock is one of England's most enduring contemporary singer/songwriters and live performers. A surrealist poet, talented guitarist, cult artist and musician's musician, Hitchcock is among alternative rock's father figures and is the closest thing the genre has to a Bob Dylan (not coincidentally his biggest musical inspiration).
Since founding the art-rock band The Soft Boys in 1976, Robyn has recorded more than 20 albums as well as starred in 'Storefront Hitchcock' an in concert film recorded in New York and directed by Jonathan Demme.
Blending folk and psychedelia with a wry British nihilism, Robyn describes his songs as 'paintings you can listen to'. His most recent album THE MAN UPSTAIRS is a bittersweet love letter to a vanishing world. Produced by legendary folk-rock svengali Joe Boyd (Pink Floyd, Nick Drake) the album was critically acclaimed by MOJO, UNCUT and THE QUIETUS.
"A gifted melodist, Hitchcock nests engaging lyrics in some of the most bracing, rainbow-hued pop this side of Revolver. He wrests inspiration not from ordinary life but from extraordinary imaginings…" – Rolling Stone
"As a performer, he's as much a wandering bard as a rock star." – The Believer