From our sponsors: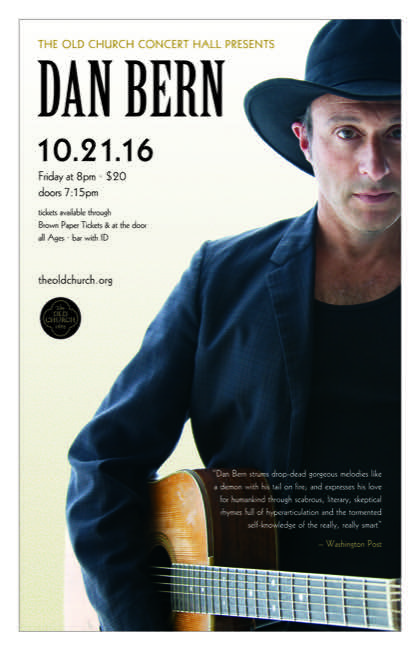 Dan Bern
October 21, 2016
Doors 7 p.m., Show 8 p.m. | $20 | All Ages
More info: brownpapertickets.com/
The Old Church Concert Hall
1422 SW 11th Ave at Clay St
Portland, OR 97201
Dan Bern is an acclaimed songwriter, a singer, a novelist, a children's book author, a storyteller, a painter. Dan Bern is one creative guy, with a lot to say. He's released more than 20 albums; contributed songs for several films, including Walk Hard: The Dewey Cox Story and Get Him to the Greek; written a few books; and tours relentlessly, both solo and with a band. (Andrew Elias) The New York Times pegs his genre as "topical-political-poetical-sarcastic-punk-folk" and Dan himself sings, "If you must put me in a box, make sure it's a big box, with lots of windows." Whether he's singing about baseball or Bob Dylan, Osama in Obamaland or a New Mexico town named after a game show, he applies his poetic lyrics and supple tenor to what the Washington Post calls "drop-dead gorgeous melodies like a demon with his tail on fire."
A remarkably prolific songsmith, Dan has released some two dozen studio albums, EPs, and live recordings since his first acclaimed Sony-distributed CD in 1997. Either fronting the prodigiously talented band Common Rotation or as a solo performer, he is comfortable and convincing, funny and topical, with an unassuming tip of the hat to the spirits Woody Guthrie, Johnny Cash, the Beatles, and young Bob Dylan all while sounding thoroughly original and 21st-century. Whether writing about stepping back and appreciating the world around us ("Breathe") or celebrating the venerable voice of the Los Angeles Dodgers ("The Golden Voice of Vin Scully"), Dan's songs are always literary, sometimes funny, and often cinematic. And it's not uncommon at a Dan Bern concert to see and hear fans unabashedly singing along to one song after another with no prompting from the stage.
Dan Bern recordings have featured a host of artists ranging from Ani DiFranco to Emmylou Harris, and he's devoted entire albums to baseball (Doubleheader), politics (My Country II), and little kids (2 Feet Tall). His singular songwriting has led to stints working on such projects as the Judd Apatow features Walk Hard the Dewey Cox Story (starring John C. Reilly) and Get Him to the Greek (starring Russell Brand). His songs have appeared in numerous TV shows, and he recently penned the theme song and others for the Amazon cartoon The Stinky and Dirty Show.