From our sponsors: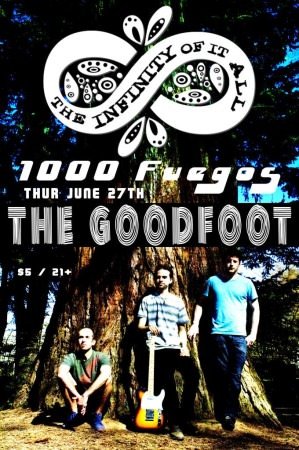 The Infinity Of It All w/1000 Fuegos
June 27, 2013
9 p.m. | $7 | All Ages
More info:  thegoodfoot.com
The Goodfoot
2845 SE Stark St Portland, OR 97214
(503) 239-9292 | More info: thegoodfoot.com
The Infinity of It All is a hi energy whirlwind trip through different styles of American music with a transcendental twist, a story of life traveling the country told by three modern troubadours.
Songwriter Morgan Quinn draws from his experience as a wandering street performer who supported himself with only a saxophone and a backpack full of clothes for two years. His improbable journey included stops in San Francisco, New York City, Chicago, Seattle and numerous towns in between. Morgan worked his way off the streets to join alt rock group NIAYH (Now Is All You Have) and is now a member of several musical projects based out of Portland, OR.
The Infinity of It All's rhythm section is made up of two young veterans of Portland's jazz/soul scene. Josh Conneran is a solid and versatile drummer with a background in afro-beat and funk. Micheal Dougherty has recorded with Max Ribner, Greg Johnson and several other distinguished jazz/soul artists on both coasts.
All of their different backgrounds mesh together to create an infectiously fun live show. The Infinity of It All uses soulful conscious lyrics and technical improv solos from all members to tell stories of the human experience. They also perform as a scaled down acoustic group to play songs that sound better quieter in more intimate venues. Part rock band, Part funk trio and part indescribable, the Infinity of It All reminds the listeners that their potential is infinite.
1000 Fuegos:
"Compositions that paint an afro-cuban face with a transplanted american smile that only finds home in a jaded heart. 1,000 Fuegos presents ancient sounds entombed by the filter of today's modern pop perspective. All the way from Hialeah, FL – a concrete melting pot of cultures spanning from the Carribean, South and Central America and the US- this music transcends our modern concept of diverse."