From our sponsors: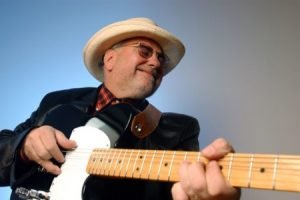 The Duke Robillard Band – 50 Year Celebration Tour
July 9, 2017
Doors 7 p.m., Show 8 p.m. | $25 | All Ages
Tickets: aladdin-theater.com
Aladdin Theater
3017 SE Milwaukie Ave, Portland, OR 97202
What do Bob Dylan, Tom Waits, Jay McShann, The Fabulous Thunderbirds, John Hammond, the late Jimmy Witherspoon, Dr. John, Maria Muldaur, Roomful of Blues, and the Canadian band The Rockin' Highliners all have in common?
Answer: Duke Robillard
Guitarist. Bandleader. Songwriter. Singer. Producer. Session musician. And a one-man cheering section for the blues, in all its forms and permutations. And every one of those names has shared recording studio space or stage time with a man who is a legend in the blues community.
The Blues Music Awards (formerly W.C.Handy Awards) have named Duke Robillard "Best Blues Guitarist" four years out of five (2000,2001,2003,2004) making him the second most honored guitarist for that award! He was also nominated in that category in 2005, 2007 and again this year of 2008.
In 2007 Duke received a Grammy nomination for his "Guitar Groove-a-rama" CD and was also honored with the prestigious Rhode Island Pell Award for "excellence in the arts" along with actress Olympia Dukakis, actor Bob Colonna, and R.I. Choreographer/Festival Ballet director Mihailo "Misha" Djuric.The Pell award is named for Senator Claiborne Pell who help establish the the National Endowment for the Arts and Humanities in 1965.
Other awards over the last decade include three Canadian Maple Blues Awards in 2001, 2002, and 2003 for "Best International Blues Artist," The Blues Foundation's "Producer of the Year" award in 2004, The French Blues Association "Album of the Year" award in 2002 (Living with the Blues) and "Guitarist of the Year" awards in 1999 and 2002.
BB King himself has called Duke "One of the great players," The Houston Post called him "one of God's guitarists. And the New York Times says "Robillard is a soloist of stunning force and originality.
None of that goes to Robillard's head. He's still on the road, still playing as many as 250 dates a year. And still proving, night after night, that his true talent is bringing people out to hear the music, appreciate the show, and dance to the blues.
Duke had his first band in high school — he was born in Woonsocket, Rhode Island — and he was fascinated from the beginning by the ways in which jazz, swing, and the blues were linked. In 1967, he formed Roomful of Blues, and the band was tight enough and tough enough to accompany two of its heroes, Big Joe Turner and Eddie "Cleanhead" Vinson on record and in live appearances.
Always ahead of his time, Duke's first band pre-dated the renewed interest in jump blues by more than a decade — and almost 20 years later, in 1986, when he recorded with jazz sax master Scott Hamilton, he recorded a collection of classic big band tunes from the '30s and '40s, thus skillfully pre-dating the neo-Swing craze of the mid '90s.
Roomful of Blues — which still continues, forty years later — gave Duke his first exposure to a wide public, and when he left after a dozen years, he played briefly with rockabilly king Robert Gordon, then cut two albums with the Legendary Blues Band (a sterling collection of former members of Muddy Waters' band). He led his own band until 1990, and then replaced Jimmy Vaughan in the Fabulous Thunderbirds.