From our sponsors: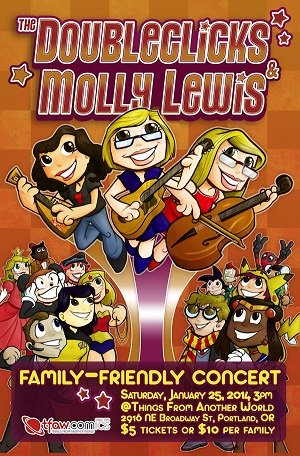 The Doubleclicks & Molly Lewis Family-Friendly Show
January 25, 2014
3-4:30 p.m.| $5 General or $10 per family | All Ages
More info: TFAW.com | Facebook
Things From Another World
2916 NE Broadway St., Portland, OR 97232
(503)284-4693
You're never too young to rock out, geek style! Things From Another World (TFAW) is proud to welcome The Doubleclicks and Molly Lewis to the Portland TFAW from 3:00-4:30 p.m. for a show the entire family can enjoy. This is an all-ages event, so pack up the kids for an afternoon of geeky tunes and comic books!
"We're delighted to kick off 2014 with such a fun, all-ages event," said TFAW Vice President Andrew McIntire. "If you haven't had the pleasure of seeing The Doubleclicks and Molly Lewis live, we invite you to pull up a chair and get ready for a treat!"
The Doubleclicks are a pair of sisters from Portland, Oregon who write songs that are all at once snarky, geeky, and sweet. Angela and Aubrey Webber sing about Dungeons & Dragons, dinosaurs, and Mr. Darcy. Their geek girl anthem, "Nothing to Prove," has been viewed over 1 million times on YouTube, and their 2013 album debuted in the top 10 on the Billboard comedy charts. Find them online at thedoubleclicks.com.
Molly Lewis's original songs and covers, accompanied by her masterful ukulele playing, have earned her over 4.5 million views on YouTube. Her cover of the Jonathan Coulton song "Tom Cruise Crazy" won her the Ukulele Video of the Year award from UkuleleHunt.com, and earned her the attention of Coulton himself. Lewis soon became a staple at Coulton concerts, and in the Internet-culture-based touring variety show w00tstock. Lewis recently blew the Internet's mind when she was invited to sing her song about wanting to have Stephen Fry's babies to Stephen himself at Harvard University. Get more info at sweetafton23.com.
Stop by the Portland TFAW January 25 for a fantastic show with the leading ladies of geek music. Suggested donation for the musicians: $5 per person or $10 per family. Seating is first-come, first-served, so get there early!
About Things From Another World:
Founded in 1979, Things From Another World is the premier retailer of comic books, toys, collectibles, and pop-culture geek goodness in Oregon, California, and online at TFAW.com.