From our sponsors: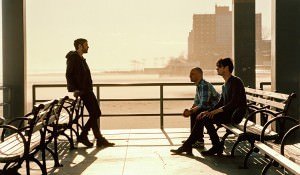 The Antlers + Shaprece
April 1, 2015
7 p.m. doors, 8 p.m. show | $17 ADV / $20 Doors | All Ages
More info: crystalballroompdx.com
Crystal Ballroom
1332 W Burnside St, Portland, OR 97209
(503) 225-0047
In seven years together, Brooklyn's The Antlers have created a quiet revolution in thought and sound with their harrowing and often haunted tales of love unmoored, human frailty and emotional evisceration.
On Familiars, their fifth album, The Antlers, vocalist / guitarist Peter Silberman, multi-instrumentalist Darby Cicci, and drummer Michael Lerner, have resumed the journey they began with 2009's Hospice and continued over the next two albums Burst Apart and Undersea, which found the trio picking their way through a labyrinth of fear, doubt, love and loss against a backdrop of layered textural songs that were as deeply atmospheric as they were anthemic.
More hopeful in mood than its predecessors, the new album emanates a palpable release of despair and an almost operatic verve on nine songs that took shape over the past year and a half.
Familiars moves the Antlers' emotional and spiritual odyssey further, alongside a palette of sounds that soar and retreat under a canopy of electronic trappings and the steady arrhythmic heartbeat of Lerner's unnerving drumming. A choir of funereal horns function as a second voice across the songs.
"I wrote the trumpet arrangements as a sort of emotional antagonist," explains Cicci.
Shaprece
Drawing from an eclectic palette of musical influences, Shaprece's latest artistic direction ranges from electronic beats to orchestral arrangement, soulful vocals to ambient soundscapes. Blending digitally altered tones with sultry and smoky vocals, she has aspired to create a category to call her own. Throughout the creative process, she's gathered inspiration from the likes of Bjork, Little Dragon, and Aaliyah, among others, forming a pleasant fusion of dreamy melodies and atmospheric sounds on her new album.