From our sponsors: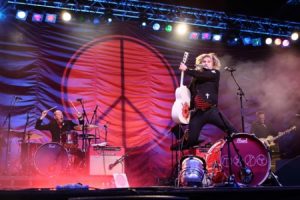 The Alarm
August 9, 2017
Doors 7 p.m., Show 8 p.m. | $30 | All Ages
Tickets: aladdin-theater.com
Aladdin Theater
3017 SE Milwaukie Ave, Portland, OR 97202
With idealistic spirit, a powerhouse live show, and bigger than big hair, the Alarm were part of an early-'80s wave of bands (the Call, Big Country, and the Waterboys among them) who dealt in soaring anthems inspired by the righteous idealism of punk. Clearly influenced by the impassioned political fervor of the Clash, the Alarm also worked in a mostly acoustic, folk-punk vein that provided a counterpoint to their hard-driving guitar rockers. Their stage look was unquestionably a product of the '80s, with enormous spiked-up hair accompanying a cowboy/old-time cavalry wardrobe.
Yet the numerous comparisons to U2 in the press were not unfounded; despite a more conservative sonic palette, the Alarm had much the same earnest intensity, the same messianic ambitions, even the same vague spirituality. Likewise, the Alarm seemed to covet a mainstream breakthrough in the vein of The Joshua Tree's conquest of the pop charts, and polished up their sound accordingly, with mixed creative results. The British music press habitually savaged their records as derivative and pretentious, but this meant little to their zealous following who supported the band to the tune of over 5 million sales worldwide and 16 Top 50 UK singles. The Alarm was formed in Rhyl, Wales in 1981 by vocalist/guitarist Mike Peters, who'd started out in a local punk band called the Toilets along with Alarm drummer Nigel Twist (b. Nigel Buckle). When that band broke up, Peters — then playing bass — formed a new outfit called Seventeen (after the Sex Pistols song) with guitarists Eddie MacDonald and Dave Sharp (b. Dave Kitchingman), both local scenesters and longtime friends.