From our sponsors: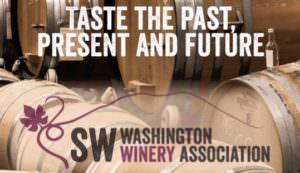 Barrel Tasting and New Release Weekend
November 25-27, 2016
Noon – 6pm | More info: swwawine.com
Locations: Participating wineries in Vancouver, Ridgefield, Battle Ground, Yacolt
After feasting with family and friends on Thanksgiving, continue celebrating throughout the three-day weekend! Come out to visit the wineries of Southwest Washington and enjoy their 2016 Barrel Tasting and New Releases! The wineries will be open from 12PM to 6PM on November 25th, 26th and 27th. We look forward to seeing you.
Just minutes from Portland, the Southwest Washington wine region is home to nearly two-dozen family-owned, boutique wineries and vineyards. With an average production of only 1000 cases per year, winemakers are still frequently in the tasting room.
Nestled between the North bank of the Columbia River and the foothills of the Cascade Mountains, our climate and soil are similar to Burgundy. The region excels at growing traditional European grapes such as Pinot Noir, Sauvignon Blanc, Pinot Gris, Gewurztraminer, and Chardonnay, as well as lesser-known varietals like Golubok, Marechal-Foch and Zweigelt-Rebe. Grapes sourced from warmer climates nearby round out the tasting experience. Red, white, rose, sparking and dessert wines offer something for every palate. Come taste, learn and enjoy with us!
Scenic hiking and other activities make it easy to plan an eventful day or a full weekend in this emerging wine region.