From our sponsors: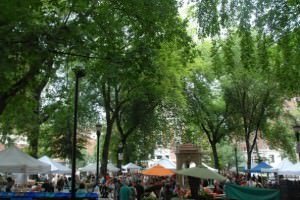 Portland Farmers Market at Shemanski Park
Wednesdays May-November, 2014
10:00 a.m. – 2:00 p.m.
More info: portlandfarmersmarket.org
South Park Blocks at Shemanski Park
SW Park between Salmon and Main
The Shemanski Park Farmers Market features over 40 vendors bringing locally-grown fruits and vegetables, berries, baked goods, seafood, meat, eggs, cheese, prepared foods and flowers right to the heart of Downtown Portland.
The market is open Wednesdays, May through November from 10am-2pm, and is located on the South Park Blocks behind the Arlene Schnitzer Concert Hall, just three blocks from Pioneer Courthouse Square.
This is gem of a market for downtown workers, chefs and residents, who can walk from their offices, restaurants or homes to fill their market baskets with farm-fresh food and enjoy lunch from one of the many vendors selling hot foods made with locally-sourced ingredients, like sandwiches, tamales and pizza.
Come to the Shemanski Park Farmers Market to meet the faces behind your food, visit with your community and celebrate the bounty of our region.  For more details, visit www.portlandfarmersmarket.org.
See the full list of vendors at portlandfarmersmarket.org/markets/shemanski