From our sponsors: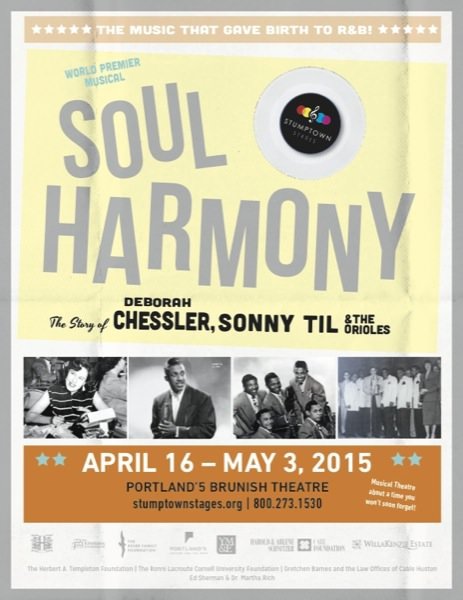 Soul Harmony
April 16-May 3, 2015
Thursday – Saturday 7:30 p.m., Saturday & Sunday 2 p.m. | $25-$35
Tickets: stumptownstages.org
Group tickets at 503-381-8686
Portland'5 Brunish Theatre at Antoinette Hatfield Hall
1111 SW Broadway, Portland, OR 97205 (between SW Broadway & SW Main St)
The creators of Stumptown Stages' It's A Wonderful Life, bring this unforgettable musical to stage! In the late 40s an unlikely partnership between a young Jewish woman and a dynamic black male vocal group gave birth to a new genre of music that would ignite a generation, R&B! Soul Harmony reveals their rise to music nobility and the role they and their music played in challenging segregation in the south.
FROM THE WRITERS
"Hear many voices singing, like branches spread. Oh, our strength is found again."
Tree of Hope, sung at the Apollo at the top of Act II
The story behind the creation of Stumptown Stages' Soul Harmony is a saga of many voices singing!
Alan, inspired by Greil Marcus's The Deborah Chessler Story, felt there was a musical drama within that history.
In 2011, thanks to Marcus, Alan began a series of weekly interviews with Deborah Chessler that would extend into 2012 when Deborah passed on. Those interviews continued with Deborah's husband Paul and their daughter Wendy.
In 2013 our artistic team was formed; Alan, Janet and Michael. The three of us had worked together on Stumptown Stages' award-winning It's A Wonderful Life. Together we had a breadth of experience in music, composing, theatre, writing and education; plus a shared affinity for the history of American music.
Stumptown Stages, a nurturer of new works, gave their support as producer. Executive Artistic Director Kirk Mouser suggested this was not just another "jukebox musical." The concept emerged of creating a seamless score with Deborah's and the Orioles classic R&B songs, pivotal period music, and our own original songs to enhance the drama of the characters and reveal their inner stories.
As our work progressed we realized we were lacking the kind of in-depth information and the 'connection' with Sonny Til we felt we had with Deborah. Sonny died in 1981.
Then one night in the spring of 2013 Janet discovered a video of Sonny performing in in his last year. Beneath the video a young man by the name of De'Sean Dooley, a graduate of The Duke Ellington School of the Arts and the American Musical Drama Academy had written, "It feels so wonderful to know that people really love and respect my granddad's music."
The next day we called De'Sean, "Guess what? We're creating a musical that tells your grandfather's story."
From that day forward, De'Sean, his father Ricky, and grandmother Wanita have enriched the many voices of Soul Harmony. De'Sean traveled to Oregon twice from NYC to participate for ten weeks in Stumptown productions, and advise on our script.
We are thrilled to have De'Sean playing his grandfather Sonny Til in our world premiere.
Along the way we made the decision that Soul Harmony would cover the 6 years that a young Deborah and the original Orioles were together. Sonny and others like Diz Russell and Bobby Thomas made sure that their legacy continued…but that's another musical!
After retiring from music in 1954, Deborah loved telling friends and fans the story of her partnership with Sonny Til, the first soul singer. And of how Deborah, Sonny, Johnny Reed, George Nelson, Tommy Gaither, and Alex Sharp gave the world Rhythm and Blues.
Sonny told the Orioles story from his own perspective in a series of late-career interviews. One was especially celebratory of the miracle of his musical partnership with 'Debbie.'
We hope our show will help you discover "The Music Inside" of you. And as Soul Harmony is performed, we also hope you hear and enjoy the many voices singing its legendary, but true story.