From our sponsors: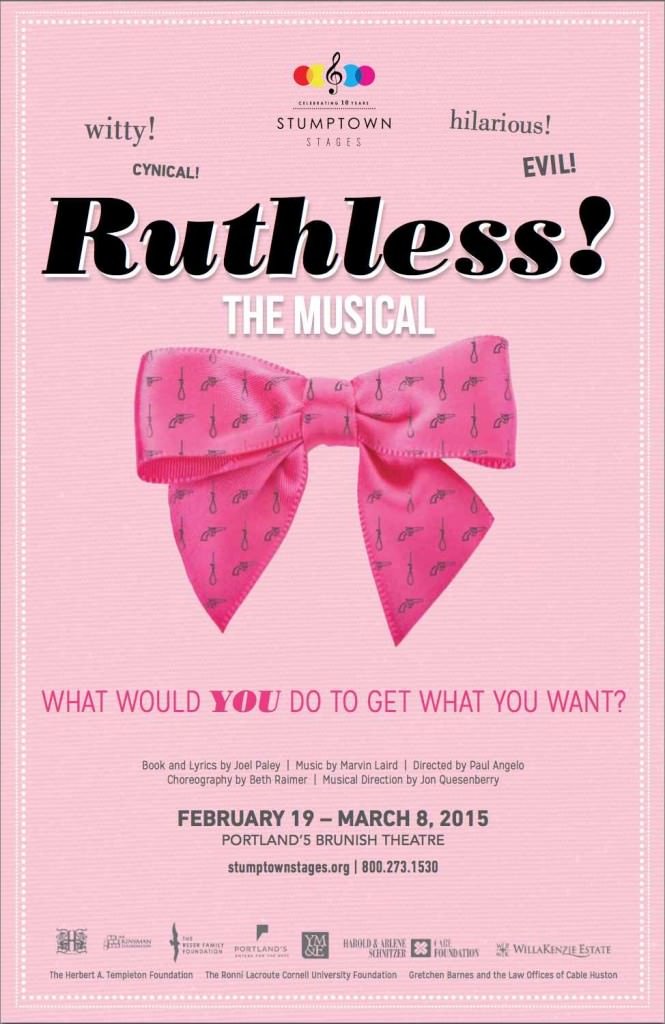 Ruthless! The Musical
February 19 – March 8, 2015
Thursday – Saturday 7:30 p.m., Sundays 2 p.m. | $20-$35
Tickets: stumptownstages.org
Group tickets at 503-381-8686
Portland'5 Brunish Theatre at Antoinette Hatfield Hall
1111 SW Broadway
Portland, OR 97205 (between SW Broadway & SW Main St)
Stumptown Stages continues its 10th Anniversary Season with the hilarious award winning musical Ruthless!
ABOUT THE SHOW
Eight-year-old Tina Denmark knows she was born to play Pippi Longstocking, and she will do anything to win the part in her school musical. Anything includes murdering the leading lady! This aggressively outrageous musical hit garnered rave reviews during its long Off-Broadway run which opened with Britney Spears in the leading role.
FROM THE DIRECTOR
We love to make fun of what we don't understand whether its people, feelings or situations; turn it into a joke and then it loses, if not its power, at least its mystery. Ruthless! takes what are complicated and frightening topics; broken families, sociopathic children and neglectful parents and turns them into something to be laughed at so that at the end of the day we can say- "I'm not so bad after all."
The best satire lampoons are its subject matter with a deep understanding and an intense love. Ruthless! lampoons some classic American cinema smartly, while poking fun at long held stereotypes we have grown accustomed to from the world of theatre (at least the world of theatre portrayed by film). Why are some people so insanely driven to be on a stage? Is it really that hard to imagine a maddening need to be famous in today's world? Well, taken to its extreme, how far would it go? How far has it gone? How often have you said flippantly off the cuff–"Oh, I'd kill for a _______". What if a child like Tina were listening? What if any child were listening? Ultimately, we the people can look silly at times in our self-absorption. A show like Ruthless! reminds us all how ridiculous we can be in our obsession. It reminds us to not take everything so seriously and to lighten up, to laugh at what we don't understand and to avoid people in the theatre…