From our sponsors: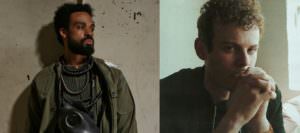 Soul'd Out Festival & Revolution Hall Proudly Present
BILAL + SHY GIRLS
April 20, 2017
Doors 7 p.m., Show 8 p.m. | $20 | All Ages
Tickets revolutionhall.com
Revolution Hall
1300 SE Stark Street, Portland, OR
971 808 5094
If there was one R&B artist for whom the neo-soul categorization seemed limiting, it was Philadelphia native Bilal. None of his recordings resembled the sycophantic worship of soul artists who thrived in the '60 and '70s, and it wasn't just because his voice — classically trained, capable of singing opera in seven languages — was so unique. While some inspirations were detectable, his recordings were wholly modern and became increasingly creative. His individuality led to being dropped from a major label, and he went several years without releasing any solo material. Through evangelism from his peers and word of mouth from his early fans, Bilal gained an insatiable following and was supported by sympathetic independent labels, where he was finally able to thrive creatively.
Bilal Sayeed Oliver came up in Germantown, a northwest neighborhood of Philadelphia, Pennsylvania. A deep interest in jazz was fostered by his father, who took him to the city's clubs. Singing eventually became more than an interest. He attended New York's New School for Jazz and Contemporary Music, where he received voice training, as well as training in jazz and big-band arrangements.
Shy Girls
Acclaimed bedroom singer/producer Dan Vidmar, a.k.a. Shy Girls, presents his anticipated debut album, Salt.
For an LP likely to be placed in the R&B aisle, Salt is noticeably impressionistic. At times it bears the painterly, frank essence of a Blue/Court and Spark Joni Mitchell. At others, it strides toward the progressive and cinematic.
There is a striking viscerality in the crashing percussion and detuned piano of "I Am Only A Man" and in the hypnotic woodwind outro of "What If I Can." The mournful guitar dressing "Watercolor Dreams" seems to nod to Ennio Morricone — like a future-Western ballad. And even in the stark ballads that bookend the album, Vidmar delivers swelling sentiment fit for the screen.