From our sponsors: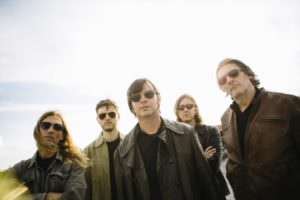 Son Volt
May 5, 2017
Doors 7 p.m., Show 8 p.m. | $25 ADV, $30 Doors | All Ages
Tickets: aladdin-theater.com
Aladdin Theater
3017 SE Milwaukie Ave, Portland, OR 97202
Notes of Blue
" There are only two kinds of songs," Townes Van Zandt said, well before he died. " There's the blues, and there's zip-a-dee-doo-dah." The new Son Volt album is titled Notes of Blue. Simple as that, maybe. Just now pushing fifty, Jay Farrar, the creative force behind Son Volt, is still not as old as his voice. Not nearly. His singing voice, an ageless gift which sounds something like old timber looks, like the unpainted walls framing Walker Evans' best portraits from Let Us Now Praise Famous Men: simple, durable, weathered and grooved and unplanned.Unplanned. Notes of Blue will be the twentieth album — including a couple live releases and two movie soundtracks — to which Farrar has lent his voice and songwriting. He is not quite a famous man, which is probably a comfort except when bills need paying. Plenty praised, though, from the moment his first band, the influential Uncle Tupelo, recorded a punked-up version of the topical Carter Family song " No Depression," and named their debut album after it.
Photographed for magazine covers, including the inaugural edition of No Depression magazine, which argued for the arrival of something called alt-country back in 1995, when Son Volt's first album, Trace, came out. To be clear, Notes of Blue is not the blues of appropriation, nor of beer commercials, nor especially of the W.C. Handy awards. It is the broader blues of the folk process, where they have always lived, irrespective of culture and caste. The blues as one of many languages available to shape and recast as the song needs. The blues as a jumping off point. Or, as Jay says, " For years I've been drawn to the passion, common struggle and possibility for redemption that's always been a part of the blues. Everyone has to pay the rent and get along with their significant others, so many of the themes are universal. For me, the blues fills that void that's there for religion, really. That's the place I turn to be lifted up." The possibility of redemption. " There will be damage, and there will be hell to pay," he sings on the opening track " Promise the World" . " Light after darkness, that is the way."