From our sponsors: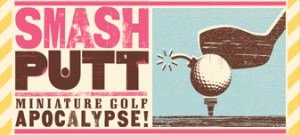 Smash Putt!
January 31-April 27, 2014
Thursdays to Sundays, Opens at 6 p.m. | 21+
Check website for times, prices & advance tickets: smashputt.com
MEGA Miniature Golf Apocalypse!
140 NW 4th Ave, Old Town, Portland
Smash Putt! Mega Miniature Golf Apocalypse, returns for an epic Portland smash down.
Presenting devious devices with wicked robotic brains engineered by crazed artists – miniature golf will never be the same again. Inventively delicious, Smash Putt! is the chocolate covered potato chip of the miniature golf world. Come get your putt on, play Atari, survive an earthquake, and get your balls sawed, drilled and smashed.
Starting January 31st, everyone is invited to weekends of mechanized mayhem! Enjoy ingenious fun with an earnest low brow sensibility and put your balls on the line for an experience you won't forget! Launch balls at moving targets! Putt past accelerator pads. Dodge devilish actuators. Press the giant glowing button to scramble the course as your opponent takes a swing! Every hole is dripping with excitement, creativity and intrigue!
Smash Putt! offers VIP lounges, a top shelf bar with hand-crafted cocktails, local personalities, inventive surprises, and good old fashioned fun.
Drop it in your calendar pronto! 21+ fun gets your balls smashed and your holes trashed late into the night.
Prices and times will vary, please see www.smashputt.com for advance tickets & to sign up for the mailing list!