From our sponsors: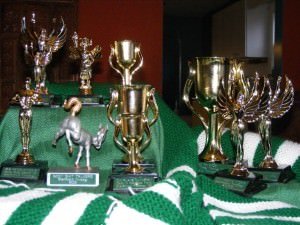 Clash Of The Trivia Titans 2016!
February 21, 2016
5 p.m. | $6 | 5 person maximum per team
More info: shanrockstrivia.com
Spare Room
4830 NE 42nd Ave, Portland, OR 97218
(503) 287-5800
Absolutely everyone is welcome to participate in this annual event, whether you're a seasoned veteran or a bright-eyed rookie. Everyone gets a prize pack just for playing, but there will be a plethora of larger, awesome prizes and engraved trophies awarded to many different teams for many different accomplishments, even if you don't win at trivia! The grand prize includes winning a free Triviology quiz, which ShanRock will present in your home, workplace, or for your favorite charity!
Here is the schedule for the day's events:
5:00 REGISTRATION

5:30 OLYMPIAN OPEN
*Pub quiz time – everyone is welcome to play! The champion team wins a trophy and prizes, then becomes the wild card seed who goes on to compete in the Titan Invitational!
7:30 NON-COMPETITIVE AWARDS
*Players vote for Best Bartender, Favorite Venue, Best Shit-Talkers, Favorite Foes, Underdog Team, etc. Trophies awarded!
7:45 HALF TIME SHOW
*Any team may introduce themselves in any way they see fit – dance, poetry, reenactments of Beverly Hills 90210 episodes, etc. The Spirit Bunny Trophy is awarded to the champions, as determined by applause!
8:00 TITAN INVITATIONAL
*Titan teams are those that have won 18 times or more at ANY of my quizzes over past year. Also, of course, the Olympian Open champion will compete. Engraved trophies and a variety of prizes are awarded to several teams.
10:00ish FINAL AWARDS