From our sponsors: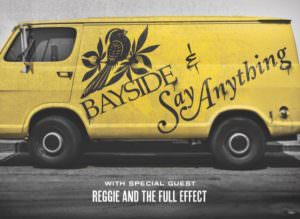 Say Anything / Bayside
April 28, 2017
Doors 7 p.m., Show 8 p.m. | $22ADV, $25 Doors | All Ages
Tickets: revolutionhall.com
Revolution Hall
1300 SE Stark St, Portland, OR 97214
Over the twelve years since the release of …Is A Real Boy, Max Bemis, the man behind Say Anything, has developed into a revered and mythical character in the alt-rock world. Over the course of releasing four progressive and fan-beloved records, Max has swayed in many different creative directions, but has always maintained a central core based on the band's ethos of "Do Better. Be Better. Or at least have the hope that better exists for you".
Two years after the release of Hebrews, arguably Max's most ambitious and critically-acclaimed album to-date, and accompanying tours with The Front Bottoms and Modern Baseball, Say Anything have returned with the surprise release of I Don't Think It Is (Equal Vision Records). The decision to release the record as a surprise came from Max's admiration for artists like Beyonce and Kanye West whose unique release methods are rarely seen in the rock world. As Max puts it, he had become a bit weary of doing the same song and dance leading up to the actual end-game, people actually listening to something".
In a lot of ways I Don't Think It Is marks a return to the visceral, raw punk that brought the band to prominence in the first place. On the flipside it is also the most collaborative Say Anything record, as Max wrote with Cody Votolato (of the Blood Brothers), Paul Hinojos (of At The Drive In), Christian Holden (of Hotelier) and a slew of others on different tracks for the record. Most notably it was the first time Max had a full collaborator in the writing/recording process, partnering with Darren King of MuteMath, whom he referred to as a "full partner in the production and composition of the record".
Catch Say Anything on tour this spring with MewithoutYou, Teen Suicide, and Museum Mouth.
Bayside
Bayside lead singer/rhythm guitarist and founding member Anthony Raneri has been waiting 10 years—since he formed the rock group in Queens, N.Y. in the winter of 2000—to make an album like Killing Time, which represents a number of firsts for the band named after his hometown.
The album is the band's debut for new label Wind-up Records after four releases on Chicago-based indie Victory Records, including Sirens and Condolences (2004), Bayside (2005), The Walking Wounded (2007) and Shudder (2008), steadily growing their following through tireless touring. Recording their latest at Dreamland Studios in Woodstock, N.Y., and Water Music in Hoboken, N.J., with renowned producer Gil Norton [Foo Fighters, Counting Crows, Pixies, Jimmy Eat World], Bayside finally had the time and resources to fulfill their creative vision.
Reggie and the Full Effect
Reggie and the Full Effect combine infectious melodies, sappy love songs, good-natured yet offbeat slyness, and comic sensibility like virtually no other "band" before them.