From our sponsors: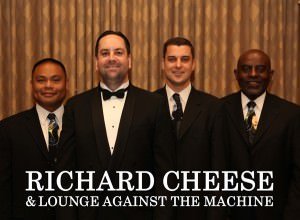 Richard Cheese & Lounge Against The Machine
May 1, 2015
6 p.m. doors, 7 p.m. show | $29 ADV / $35 Doors | 21+
More info: crystalballroompdx.com
Crystal Ballroom
1332 W Burnside St, Portland, OR 97209
(503) 225-0047
America's loudest lounge singer Richard Cheese performs swingin' Vegas versions of rock, rap, and Top40 hits, "swankifying" contemporary songs into traditional pop vocal standards. With his Lounge Against The Machine swing band, Cheese has sold more than 200,000 CDs, and played hundreds of sellout concerts around the world.
The finger-snapping, liquor-lapping, night-capping crooner first stepped into the spotlight in 2000 with his LOUNGE AGAINST THE MACHINE album. This critically acclaimed CD featured "swankified" versions of alternative rock songs, such as Radiohead's CREEP and Limp Bizkit's NOOKIE, arranged for a big band sound. Thanks to radio stations including KROQ/Los Angeles, Z100/New York City, and the nationally-syndicated Dr. Demento Show, Cheese soon found an audience that shared his love of lounge music, including rockstar Brian Setzer, who hired Richard Cheese & Lounge Against The Machine to play at his private Christmas party with The Stray Cats!
Now, fifteen years after the debut of his LOUNGE AGAINST THE MACHINE CD, a new autobiographical book and ebook will be published in summer 2015. "ATLAS LOUNGED: THE MUSIC, MARTINIS, AND MADNESS BEHIND RICHARD CHEESE & LOUNGE AGAINST THE MACHINE" by Mark Jonathan Davis is on advance sale now at www.atlaslounged.com.
The hardest working Dick in show business continues to perform sellout shows all over the world, from Las Vegas to London, from New York to New Orleans, from Hollywood to Honolulu. Thanks to eighteen albums, hundreds of concerts, 120,000 FaceBook fans, and a million martinis, Richard Cheese has earned a prominent place in that prestigious pantheon of lounge legends: Frank … Sammy … Dean ………. and Richard Cheese.