From our sponsors: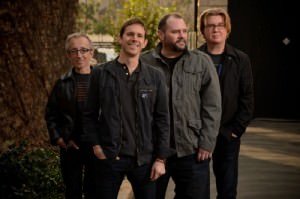 Toad The Wet Sprocket
July 21, 2016
Doors 7 p.m., Show 8p.m. | $38 ADV / $42 DOS / $113 VIP Package | 21+
Tickets: revolutionhallpdx.com
Revolution Hall
1300 SE Stark Street, Portland, OR
When Monty Python's Eric Idle created the fictional band "Toad the Wet Sprocket" for the program "Rutland Weekend Television" in 1975, he never dreamed that anyone would actually use such a silly name. Fast forward to 1986, when four California teens desperately needed to come up with a name to call their band for an upcoming gig at a Goleta, CA watering hole called The Shack.
Since that day, "Toad the Wet Sprocket" has been the name of the four piece California rock band consisting of lead singer Glen Phillips, guitarist Todd Nichols, bassist Dean Dinning, and drummer Randy Guss. From 1989-1998, they made 5 studio albums which combined sold over four million copies, had five major radio hits, and won over audiences across North America and Europe.
After breaking up in 1998, Toad would get together sporadically to play shows on a casual basis, but their hard core fans never gave up hope for a new album. After successful tours in 2006-2010, the band finally decided to put the last piece of the puzzle in place, and committed to working together on new music. They also decided to update their classic catalog, and created a new Greatest Hits album "All You Want", which came out in 2011.
Toad the Wet Sprocket's current album New Constellation, was launched with an impressive #3 most funded Kickstarter Campaign in music for the year, was the bands' first new album in 16 years when released in 2014, and features the singles "New Constellation", "The Moment" and "California Wasted".
Rusted Root
Rusted Root's current release "The Movement, means a new work ethic to me – it's going from the industrial age to the individual spiritual age. I feel everyone should devote all their actions to all that is love, healing and pragmatic. We're seeing the growing pains of this right now…the world is split…some people are fearful and fighting it with all their might… Rusted Root is trying to help with this…this is our movement!!" shares Rusted Root founder, front man, songwriter, singer/guitarist Michael Glabicki. Having collaborated with one another for two decades, Rusted Root, has honed the perfect combination of musical intuition, freedom and virtuosity, which has allowed them to organically shape shift their music into their own distinct and undeniable vision. With eight albums under their belt, over three million records sold worldwide and countless nights on the road, Rusted Root, transcends age, generations, cultures and musical styles. Their music has been featured in films like Ice Age, Twister and Matilda, TV shows like New Girl, Ally McBeal, Charmed and Chuck as well as recent Enterprise Rent-A-Car commercials. Bassist and vocalist Patrick Norman says, "From the very first time we played music together, I knew we had something special. The music and the enjoyment of creating and playing with one another I feel is the driving force behind this band." The powerhouse ensemble's sweat-inducing and hypnotic live performances have allowed them to tour alongside everyone from Santana, Dave Matthews Band, The Allman Brothers Band, Robert Plant and Jimmy Page's reunion tour and countless others. Rusted Root's Shanachie debut, The Movement (10/30/12), is an energized and poetic collection of originals that capture the Pittsburgh based unit at their best.