From our sponsors: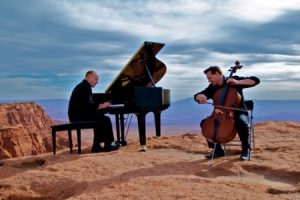 ThePianoGuys
October 6, 2017
Doors 7 p.m., Show 8 p.m. | $39.50-$179.50 | All Ages
Tickets: aladdin-theater.com
Arlene Schnitzer Concert Hall
1037 SW Broadway, Portland, Oregon 97205
Hailing from Utah, The Piano Guys became an Internet sensation by way of their immensely successful series of strikingly original self-made music videos. They've made over 35 since joining forces in early 2011, including their hit video, an innovative 10-handed version of One Direction's "What Makes You Beautiful." But it's the Guys' highly original blend of classical music with pop that has really been the cause of an Internet phenomenon that has brought them to their major label debut album, The Piano Guys, released on Sony Masterworks on October 2nd, 2012.
In the last few months, The Piano Guys have performed on everywhere from "The Tonight Show with Jay Leno," to "The Today Show" and "Katie." Their most recent video "Mission Impossible" featuring YouTube violin sensation Lindsey Stirling, continues to build momemtum with over 1.5M views in a month. It finds the band and Stirling in a spy thriller as covert operatives while playing their unique take on this famous musical theme.
The album features more of the imaginative mash-up arrangements that The Piano Guys are already famous for, including sources ranging from Michael Jackson to Mozart, The Bourne Identity to David Guetta. It also includes an original song and innovative takes on hits by One Direction, Adele and Christina Perri.
But just who are The Piano Guys? Actually, there's only one piano player, Jon Schmidt, and one other instrumentalist, Steven Sharp Nelson, on cello. Yet the other three – Paul Anderson, Tel Stewart and Al van der Beek – are equally significant members of the group. The Piano Guys' name comes from Anderson's piano store in St. George, Utah, which was called The Piano Guys. Looking for an alternative to low-yield conventional advertising, Anderson devised a Facebook promotional page and YouTube channel featuring the most famous pianist he could find – local pianist, Jon Schmidt. A self-described "New Age Classical" player, Schmidt was indeed well-established locally, thanks to eight albums and seven piano books of his song transcriptions. He also performed concerts throughout Utah, one of which featured a young guest artist, Steven Sharp Nelson, who adventurously combined traditional cello playing with percussion effects. "I was 15 when I met Jon and started playing with him," Nelson recalls. "I had to get a ride to shows! But we've had a great brotherhood that's now lasted 20 years."
When Nelson moved from Salt Lake City to the suburb of Sandy, providence, if not serendipity, intervened. Al van der Beek, who came from a musical family and played several instruments and sang, lived down the street from Nelson's new place and helped him move. "I suggested we 'collaborate' sometime and he hesitated because I think he didn't want to disappoint me if I was horrible!" says van der Beek, laughing. "But," says Nelson, "I checked out his home studio and started playing some of my unfinished songs, and he told me what the titles should be and their meaning – and finished them on the spot! The guy is music incarnate!"
In The Piano Guys, then, van der Beek is charged with the studio operations, as well as co-writing and some vocal texturing, music arranging, "and a lot of percussion work," adds Nelson. As for Tel Stewart, he was a piano mover when he began working with The Piano Guys as its taciturn videography genius. "I wish people could get in Tel's head, because I bet it would be an amazing place to explore!" says Nelson of Stewart, who relates that the average budget of The Piano Guys' videos is a lot less than people might perceive.