From our sponsors: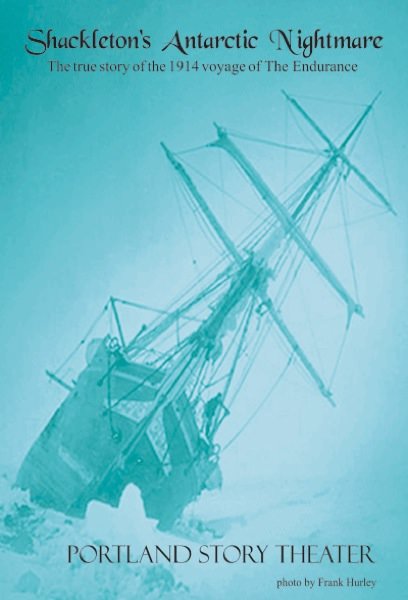 Portland Story Theater: Shackleton's Antarctic Nightmare
October 18, 2014
Doors 7 p.m. | Show 8 p.m. | $15 ADV / $18 Doors | 21+
Tickets: portlandstorytheater.com
Alberta Abbey
126 NE Alberta Avenue, Portland, OR 97211
(503) 897-7037
There are two kinds of people in the world: those who love and are obsessed with the story of Ernest Shackleton, and those who haven't heard it yet. This October, you'll have your chance to join the first category when Lawrence Howard reprises his acclaimed one-man show, "Shackleton?s Antarctic Nightmare: The 1914 Voyage of The Endurance."
This is not a history lecture, but a rollicking good story of adventure and derring-do; a hero's journey that makes us all step back and admire the indomitable human spirit.
The epic 150-minute production will take at the Alberta Abbey on October 18, 2014 at 8:00 p.m.
"From the moment the performance started, I was completely caught up in it."
"Not by any means just an adventure tale, this has something to say to all of us — especially during these tough times — about what it means to endure."
"Absolutely fascinating!"
2014 marks the centenary of Ernest Shackleton's Imperial Trans-Antarctic Expedition (1914-1916). But 100 years has not diminished the impact that this gripping, true story of the British Antarctic explorer, Sir Ernest Shackleton, and the 1914 voyage of the ship, Endurance. Shackleton?s dream of being the first man to traverse the Antarctic continent from one side to the other became a nightmare when his ship was trapped in the pack ice of the Weddell Sea and crushed by the pressure of the ice. The story of how he and the 27 men of his expedition survived on the ice for over a year and a half and eventually came to safety is an epic tale of hardship, courage, and endurance.
Lawrence Howard, one of the founders of Portland Story Theater, is a storyteller and Polar historian living in the Pacific Northwest. He has been mesmerizing audiences with stories of Antarctica since 2008.
Admission always includes free appetizers. Beverages are available for purchase when the doors open at 7 p.m. with wine $6, beer $4 (21+)
LISTENER DISCRETION
Please be advised as this story contains vivid imagery of near-death struggles, perilous journeys, and the suffering of dogs and men. Young adults 14+ are welcome if accompanied by a parent.
Image Waiver
Videos, photographs, and audio clips are taken at all performances to be used for future promotional material. By attending this event, you are giving permission on behalf of yourself and/or each person in your group for Portland Story Theater, Inc. to use your image/audio clips for the sole purpose of future promotional materials without compensation or further permission.