From our sponsors: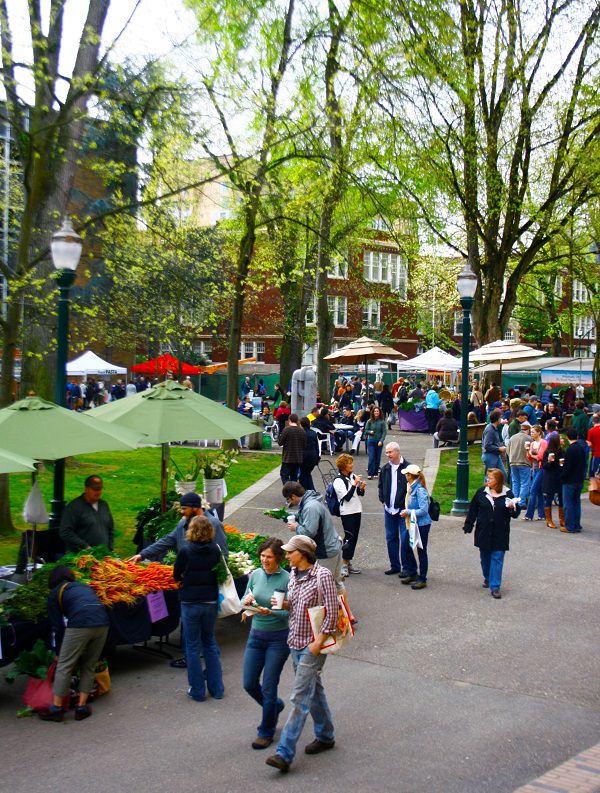 Farmers Market at PSU
Saturdays, March 15 – December 20
March – October: 8:30am – 2pm
November – December: 9am – 2pm
More info: portlandfarmersmarket.org
Portland State University Campus
Park Avenue between SW Hall & Montgomery
The Saturday Farmers Market at Portland State University is the jewel in Portland Farmers Market's crown. An essential destination for locals and tourists alike, this word-class market is a stunning showplace for the agricultural bounty of our region and a true gathering place for the community.
Discover over 100 farmers and food vendors with booths overflowing with seasonal produce, pastured meats, fresh seafood, farm eggs, artisan breads, handcrafted cheeses, varietal honey, pickles, preserves, wine and sweets – everything you need to create seasonal meals from our local bounty.
Stop by to fill up your market basket with fresh, local food and stay to visit with friends, listen to music and enjoy a hot breakfast or brunch.
For more information and an interactive market map, see portlandfarmersmarket.org
Kids Cook at the Market
Junior chefs age seven to eleven cultivate their culinary skills and experience a cornucopia of farm-fresh foods by enrolling in cooking classes held at PFM's Saturday market. Recipes include Vietnamese Spring Rolls, Kid's Sushi, Veggie Quesadillas, Veggie Tacos with Goat Cheese, Fruit Crepes, Lemon Berry Pancakes, Fruit Kabobs, Berry Shortcakes and more! Saturdays from 8:30 AM to 10:00 AM in June, July and August |$5