From our sponsors: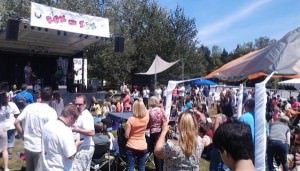 2014 Rox in Sox
August 2, 2014
10 a.m. – 4 p.m. | Free (Donations Accepted) | All Ages
More info: roxinsox.org
West End Building
4101 Kruse Way in Lake Oswego
Rox in Sox, the Portland area's popular new festival of children's music and reading, will host its second annual event in Lake Oswego, 10am to 4 pm on Saturday, August 2nd. The lineup of music, author readings and other festivities is growing now at www.roxinsox.org. Admission is free with a donation of new shoes, socks or books for kids in need.
KOIN TV's Ken Boddie will be one of the emcees at this year's Rox In Sox, and Blaze, the Trail Blazer's mascot, will join the fun during 10 am to 12 noon. Local and touring family music artists, plus several authors will join the day of fun on the front grassy lawn of the West End Building, 4101 Kruse Way in Lake Oswego. Admission is free, and families are asked to bring socks, shoes and books at the door to distribute to kids in need in Portland, Kenya and Jamaica. A raffle for prizes, including an all-expenses paid trip to Maui, Hawaii, will also support the One World Chorus cause.
Last year's Rox in Sox attracted more than 1,800 people. In all, festival volunteers collected 1,003 pairs of socks, 69 pairs of shoes and 483 books, all of which have been distributed to children in Oregon, Jamaica and Kenya.
Presented by One World Chorus, Northwestern Mutual, the City of Lake Oswego, and the Lake Oswego Public Library, Rox in Sox will offer a host of family-friendly activities and services, as well as summery refreshments. NW Kids magazine is the parenting media sponsor of this year's festival.
The City and the Lake Oswego Public Library were the first to come on board as Rox in Sox sponsors in its inaugural year. This year, the Library's author tent will be a major attraction. Top children's picture book authors, including Stephanie Bauer, Carmen Bernier-Grand, Connie Bowen, Valarie Pearce, Philip Pelletier, and Nicole Rubel, will share their works with fans at the festival.
This year's musical guests will include local artists The School of Rock, Red Yarn, Aaron Nigel Smith and his One World Chorus, Seattle's The Not-Its!, Recess Monkey, plus Mista Cookie Jar and Secret Agent 23 Skidoo from California.
Event director and Lake Oswego resident Aaron Nigel Smith is a musician and educator whose simple mission is to inspire families to sing, dance and play together. He's been featured on PBS-TV's "Between the Lions," and has won numerous awards and tours nationally. His One World Chorus blends the voices of hundreds of young singers from Portland, New York, Los Angeles, Kenya and Jamaica. "We're thrilled to bring this major festival to the city of Lake Oswego again this year," he says. "I've seen first-hand how our festival-goers' contributions have helped many kids in need, and we're grateful for all of the amazing community support."
There are still a few spaces for Rox in Sox vendors and sponsors. More information about the festival is available at www.roxinsox.org.