From our sponsors: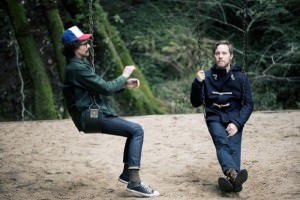 Rogue Wave
June 25, 2016
Doors 8 p.m., Show 9 p.m. | $18 ADV, $20 ADV | All Ages
Tickets: revolutionhallpdx.com
Revolution Hall
1300 SE Stark Street, Portland, OR
Over the decade and a half that Rogue Wave has made music, Zach Rogue has continued to expand his band's emotional spectrum. Drawing inspiration from the inevitable delusions of everyday American life, Rogue, his longtime bandmate Pat Spurgeon, and their fellow members have returned reinvigorated, and with a fresh sound founded on the art of patience, the fearlessness of experimenting, and the unbridled joy of creating something meaningful to help us navigate through these vacant times. Trusting in its own abilities and leaning on each other, Rogue Wave has seized creative control of its identity and sound and is set to smash any preconceptions of its music, revealing the most truthful, powerful, and urgent sonic blueprint of the band to date.
Taking a longer break in between albums than ever before, Rogue enjoyed his extra time off at home in Oakland with his children. The songwriting process for Rogue Wave's music is always the same—"me, alone in a room," as Rogue says—and this time around, he found the most success at home in his bedroom or while driving in his car, even learning to embrace his two-year-old son's "experimental tunings" on his beloved Taylor guitar. Lyrics, however, did not come as easy, and Rogue only found success with his words when slowing himself down and recognizing that his wild juxtapositions of lyrical themes actually felt right. "I wanted the duality," he says, "I wanted the thematic conflict. This is a record of things being out of balance and at odds with one another." Thematically, Rogue Wave's music has never drifted too far from the subject matter of emotional battles with fear and joy in equal parts.
Choosing to title the record Delusions of Grand Fur, a riff on the tendency of fresh-faced musicians to misperceive the reality of band life, Rogue found himself reflecting on all that he had learned through his time in Rogue Wave, in addition to our need as humans to keep up appearances. "You think the world will be your oyster and the wounds you were running away from when you joined a band will magically go away—you think you can just become someone else or get whatever you want," he says. "But really, we are all deluded in some way. We need to delude ourselves to deal with the impossibility and difficulty of life. Delusion is what keeps the mythology of America alive. It keeps us from facing our history and our true selves. We don't want to be deluded. We need it." And once he had convinced Spurgeon of the sincere intent behind the titular pun, they began the recording process.
Hibou
Peter Michel is a 22 year old Seattleite who creates music under the alias Hibou. Michel toured North America and Europe as the drummer of Captured Tracks' band Craft Spells. After a year of non-stop touring, he felt his life with the band had run its course, and that it was time to begin creating his own music. In January of 2013, he released 2 songs, and soon after received positive press recognition. In June of 2013, Dunes EP was released, which was featured by NME, Pitchfork, Line of Best Fit, Noisey, and more. Hibou released his debut self titled LP on Barsuk Records in September of 2015, and is currently on tour.