From our sponsors:
Dispensary Next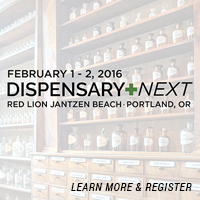 February 1-2, 2016
GET $249 ALL-ACCESS TICKETS BEFORE NOVEMBER 1
More info: dispensaryexpo.com
Red Lion Janzen Beach
909 N Hayden Island Dr, Portland, OR 97217
(503) 283-4466
DispensaryNext is a 2-day conference focused on the next generation of technology, standards, products, and services for cannabis dispensaries.
Explore best practices in dispensary marketing & operations across both medical and recreational markets. Find the latest profit and process improving technology from front-office to grow room, and connect with peers from around the country to build your cannabis-industry network.
DispensaryNext will feature 17 sessions exploring best practices in dispensary management and marketing plus opportunities to network with passionate industry peers, and a vendor exhibit hall with some of the latest and greatest in cannabis dispensary products, services, and technology.
If you care about growing a world-class cannabis dispensary, you need to be at DispensaryNext.