From our sponsors: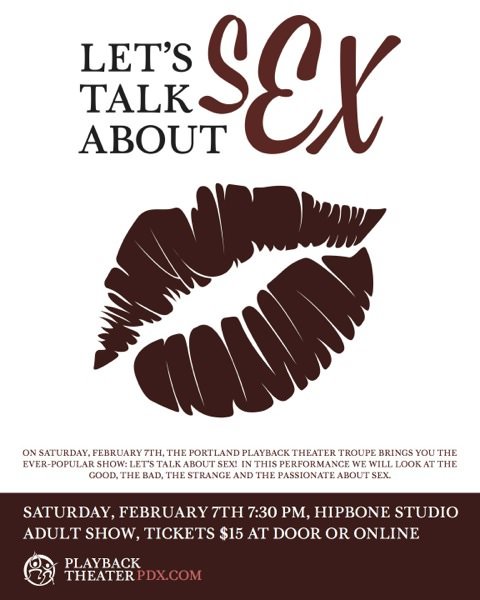 Portland Playback Theater Presents: Let's Talk About Sex!
February 7, 2015
7 p.m. Doors / 7:30 p.m. Show | $15
More info: playbacktheaterpdx.com

Tickets for this show tend to sell out quickly so it's best to purchase online!
Hipbone Studio
1847 E Burnside St Suite 104, Portland, Oregon 97214
Sex! It keeps the human race going and keeps our minds and bodies quite occupied. Lets talk about it!
On Saturday, February 7th, the Portland Playback Theater Troupe brings you the ever-popular show: Let's Talk About Sex! In this performance we will look at the good, the bad, the strange and the passionate about sex.
"Sex is such an essential part of our lives," says Jackie Paris, Director of the Portland Playback Theater Troupe. "This show will invite you to share how sex has shaped your life, your identity and your relationships with others. These stories may be intimate, funny, spiritual, embarrassing, awkward, amazing or troubling. How has sex given you meaning, brought you closer, or separated you from others? Please bring us your words as Playback Theater is all about YOUR story. Come join the community and explore this topic with artistry, safety, and respect."