From our sponsors: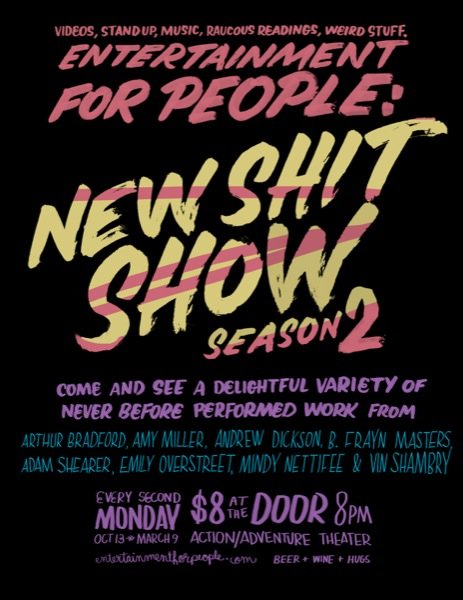 New Shit Show Season 2
Every Second Monday October 13, 2014 – March 9, 2015
7:30 p.m. Beer / Wine, 8 p.m. Show | $8 | 21+
Tickets: entertainmentforpeople.com

Action Adventure Theater
1050 SE Clinton St, Portland
The cast of the Entertainment for People: New Shit Show is excited to bring you a season of brand new shit. Videos, Comedy, Music, Raucous Readings, and weird stuff. Each cast member has 10 minutes to do as they please, as long as it's new.
We ended our first season with two sold out performances of our E4P: Mainstage show hosted by Dan Kennedy. Season 2 of New Shit will also end in Mainstage shows which will showcase our best new shit — with Dan coming back to host!
Word is OUT about this the monthly E4P: NEW SHIT SHOW and the ensemble is ready to bring a variety of brand new shit to our new stage on OCT 13 at   ACTION/ADVENTURE Theatre — This show will mark the inaugural performances of our new cast members: ADAM SHEARER of Weinland/Portland Cello Project fame and EMILY OVERSTREET fabulous Singer/Songwriter/Musician.
Returning members are McSweeney's Author and Emmy-Nominated filmmaker Arthur Bradford, Moth StorySLAM host + PICA and TBA festival regular Andrew Dickson, Standup Comedian extraordinaire Amy Miller, Writer/Actor Vin Shambry, Professional Poet Mindy Nettifee, and McSweeney's/Hobart contributor, Host of Back Fence PDX, video maker and creator of Entertainment for People, B. Frayn Masters.