From our sponsors: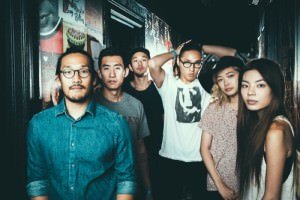 Run River North
March 9, 2016
Doors 7 p.m. | Show 8 p.m. | $12 | Minors OK w/ Parent or Guardian
Tickets: aladdin-theater.com
Alberta Rose Theater
3000 NE Alberta St, Portland, OR 97211
Phone:(503) 719-6055
Run River North will be the first to tell you: it has largely been an uphill climb for the indie rock sextet from Los Angeles, a hero's journey full of odds-defying opportunities seized amidst rocky naysayers and the snagging brambles of band life. And now, with their second full-length album Drinking From A Salt Pond, Run River North are poised to push forward and create their own wake as a major voice in today's music landscape.
Since the band's beginnings just over four years ago, their rise has been steadily spectacular, marked by appearances on national television, sold-out shows at historic venues, tours with rock and roll royalty and heaps of praise from fans and critics alike. As they blossomed, they embraced their initially folk-driven sound, which found its harmonic home alongside rootsy, foot stomping, sing-along-leading peers like Mumford & Sons, The Head and the Heart, and Of Monsters and Men. Powered by the acoustic-guitar-and-vocals songwriting of frontman Alex Hwang, their 2014 self-titled debut record, produced by Phil Ek (Fleet Foxes, Modest Mouse, Band of Horses), was released with their lineup rounded out by the strings duo of Daniel Chae and Jennifer Rim, Joe Chun on bass, Sally Kang on keys, and John Chong on drums.
As time and tours passed, the six lives spent in close-quarters began to grind the gears a little differently; their whole dynamic began to change. "When we became a band, we mostly played Alex's songs in band form," says Chae. "Since then we've all put our musical input into it, so the music has changed a lot."
"We were tired of me on acoustic guitar and everybody singing harmonies," says Hwang. "We were hitting a ceiling, and it wasn't fun. We had always agreed this band was six-ways, for better or worse. So at the end of last year, after being in the van constantly, we said, 'no more touring, let's write new songs.'"
"We had to grow up pretty fast as a band," says Chong. "So this past year, there were times when different perspectives and priorities have butted heads."
During the writing of Drinking From A Salt Pond, the band admits to flaring tempers and tense operations as they worked to redefine their sound, goals and relationships. "We've had a lot of hating each other, almost kicking people out of the band," says Hwang. "We're being honest and that openness is one of the main thrusts for the album. Embracing the bitter with the sweet, not trying to hide the crappy parts…the crappy parts helped make the good." Being open about its faults, the band recognizes how the turmoil has helped Run River North create something beautiful.