From our sponsors: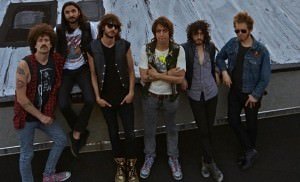 Julian Casablancas+The Voidz
November 11, 2014
7 p.m. doors, 8 p.m. show | $30 | All Ages
Tickets: crystalballroompdx.com
Crystal Ballroom
1332 W Burnside St, Portland, OR 97209
(503) 225-0047
JULIAN CASABLANCAS+THE VOIDZ TO RELEASE ANTICIPATED DEBUT TITLED TYRANNY ON SEPTEMBER 23
Julian Casablancas+The Voidz will release their anticipated debut titled Tyranny this September 23 on Casablancas' own Cult Records. A digital pre-order priced at $3.87 is available now on www.cultrecords.com along with a third and final video teaser installment comprised of music and live tour footage.
Written and recorded over the past year, the album features Casablancas and Voidz band members Jeramy Gritter and Amir Yaghmai (Salt & Pepper) – guitar, Jeff Kite – keyboards, Jake Bercovici – bass, Alex Carapetis – drums and was produced by Shawn Everett.
The album incorporates world underground music from the 70s and 80s, hardcore/punk and modern harmony, using modern and analog recording and sampling techniques. Of the album's title Casablancas says, "Tyranny has come in many forms throughout history. Now, the good of business is put above anything else, as corporations have become the new ruling body. Most decisions seem to be made like ones of a medieval king: whatever makes profit while ignoring and repressing the truth about whatever suffering it may cause (like pop music, for that matter)."
Julian Casablancas+The Voidz will begin their first ever "American tour to melt peoples' faces off" as Casablancas describes, here in the U.S. on Thursday, October 16 in Philadelphia, PA. Other cities include Seattle, Washington, D.C., Los Angeles and of course Portland.