From our sponsors: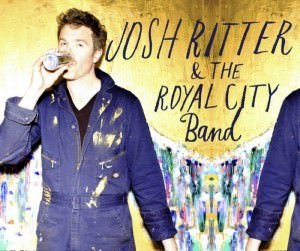 Josh Ritter and the Royal City Band
January 22, 2016
Doors 7 p.m., Show 8 p.m. | $35 ADV, $38 Doors | 21+
More info: revolutionhallpdx.com
Revolution Hall
1300 SE Stark Street, Portland, OR
Every ticket comes with a download of Josh Ritter's new album "Sermon on the Rocks"
The album was recorded in New Orleans, and it's Josh's most freewheeling and rollicking record to date. Here's how Josh himself describes it:
"I wanted to make something grand. I wanted it to swing hard. I wanted my monster to run. I wanted to sing songs that I had written in stretches of frenzy. I wanted to fall in love with every note. I wanted to hold each one and let it slip away like ribbon through the hands. I wanted to make something important to me and to no one else. I wanted it like I've never wanted anything in my life. I wanted it because life is short and I wouldn't want to leave it without giving it all of my love. I wanted to play in a beautiful studio all day and walk home at night through the ghosty wedding cake houses of the Garden District dark. I wanted to play messianic oracular honky-tonk. Mama says that I was born hungry, but I woke up one morning not long ago and found that I was ravenous."
Over the course of his acclaimed career, Josh Ritter has released seven full-length albums, including The Beast In Its Tracks, So Runs the World Away, and The Animal Years. Of the latter, novelist Stephen King named it his album of the year, calling it "the most exuberant outburst of imagery since Bob Dylan's 'A Hard Rain's A-Gonna Fall,' in 1963."

Elephant Revival
"Where words fail … music speaks."
That simple line atop Elephant Revival's Facebook page contains only five words, but reveals volumes about the band's reason for being. Music unites us in ways that no other medium can. Even when we don't understand one another's languages — we can be moved by a rhythm, soothed by a song. Brought together by a unified sense of purpose — the spirit of five souls working as one, in harmony, creating sounds they could never produce alone.
The five souls in Elephant Revival are Bonnie Paine (washboard, djembe, musical saw, stompbox); Bridget Law (fiddle, octave fiddle); Charlie Rose (banjo, pedal steel, guitar, horns, cello, double bass); Dango Rose (double bass, mandolin, banjo); and Daniel Rodriguez (guitar, banjo, double bass).
This Nederland, Colo., quintet are, needless to say, quite a sound to be experienced — especially when they fall into the pocket of a groove containing elements of gypsy, Celtic, Americana, and folk.