From our sponsors: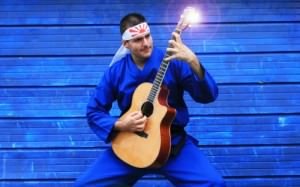 Ewan Dobson
March 24, 2015
7 p.m. Doors / 8 p.m. Show | $17 ADV / $20 Doors | Under 21 OK w/ guardian
Tickets: aladdin-theater.com
Aladdin Theater
3017 SE Milwaukie Ave, Portland, OR 97202
(503) 234-9694
Acoustic Metal North American Tour
Guitar Virtuoso & YouTube Sensation performing solo acoustic instrumental guitar
In February 2015, EWAN DOBSON embarks on a 3 month coast-to-coast North American Tour, hitting all major markets! North America is big, so Ewan Dobson will release not one, but two new albums to support his North American tour. ACOUSTIC METAL II is the first of these two new releases and is the follow-up to the Acoustic Metal 1. 12-String Guitar includes 12-string versions of material from Ewan´s previous albums along with 5 new unreleased songs. The show will include material spanning Ewan´s entire catalogue performed fingerstyle and with flatpick.
On Friday, July 4th, 2014, guitar virtuoso & YouTube sensation EWAN DOBSON releases his 9th solo album, Acoustic Metal II. Recorded in complete isolation in the backwoods of Canada just after completing his tour of Europe , Acoustic Metal II is the follow-up to Acoustic Metal (CandyRat Records, 2013). and features multi-tracked acoustic guitar played with a flat-pick. With Acoustic Metal II, Ewan shows that acoustic guitar can definitely be metal, and you don´t necessarily need distortion.
"Think Spanish Flamenco in a head on crash with a bus filled with Kerry King, Dave Mustaine and Dimebag Darrell! It's when you listen to this record you can easily understand why ex-Megadeth guitar virtuoso Marty Friedman selected Ewan to play the acoustic parts that appears on Marty Friedman's latest album Inferno. Friedman was even quoted saying ´Ewan played the parts so beautifully and with so much expertise and flair that Jason (Becker) and I were in awe of his performance.´ Lets be fair, that statement alone deserves a round of applause."
– http://themetalreview.com/albums/ewan-dobson-acoustic-metal-ii-review/