From our sponsors: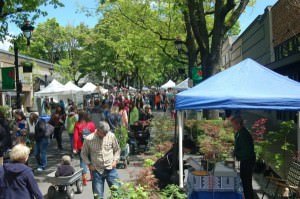 Camas Plant & Garden Fair
May 9, 2015
9 a.m. – 4 p.m. | Free
More info: cwplantfair.org
Held the day before Mother's Day, each year the plant fair draws in thousands of people to enjoy and explore the amazing selection of plants, trees, garden art and supplies, and much more provided by our dedicated local growers and vendors. Kids' activities, live music, fresh food, and the shops and restaurants of Downtown Camas all add to the community experience. Come make a day of it!
The Camas Plant & Garden Fair offers a huge variety of plants and garden-related items. 
You'll find the highest quality plants, trees, bedding plants, vegetable starts, herbs, hanging baskets, planters, and of course local growers and vendors that can show you how to make your garden the healthiest and most beautiful it can be. As well as plants, you can explore unique hand-made offerings of garden art, bird houses, garden furniture, fountains, wind chimes, iron works, and a wealth of other products. This plant fair is known for it's quality products! It's a great opportunity to get something special for mom or to pick up something for your own yard or garden.
Not only will you be supporting local vendors, but you'll also be supporting scholarships for local women! 
A portion of the funds generated by the vendor stall fees go to sponsor educational scholarships for local women who are continuing their educations or returning to school.
Service with a smile!
One thing we strive to excel in at the plant fair is customer service! We provide plenty of volunteers all day to make this event a pleasure for shoppers and vendors alike!
Plant Holding Area: This free service is available to make your shopping effortless; just drop off your purchases and volunteers will hold them until you are ready to venture home. We make pick-up easy with a drive up area to get you on your way quickly. Plant-Holding closes at 4:30. And please don't forget to pick up your plants before you leave for the day!
Plant Wagon-Taxi Service: Scouts from local troops work for tips and donations as a fund raiser for camp and other activities. Should you need help lifting or carrying heavy items, a personal wagon-puller will be at your service to transport your purchases to the holding area while you continue to shop the fair; The scouts will be easy to spot in their official uniforms. You can flag them down inside the downtown area or at the scout service booth just off 4th Avenue on Dallas Street.
Vendor Assistance: DCA staff and volunteers will be on hand from the beginning of vendor checkin to the end of breakdown to assist in traffic control, lend a strong arm, and to answer any questions you may have.
Watch for more details to come! Like us on our Plant Fair Facebook page !