From website: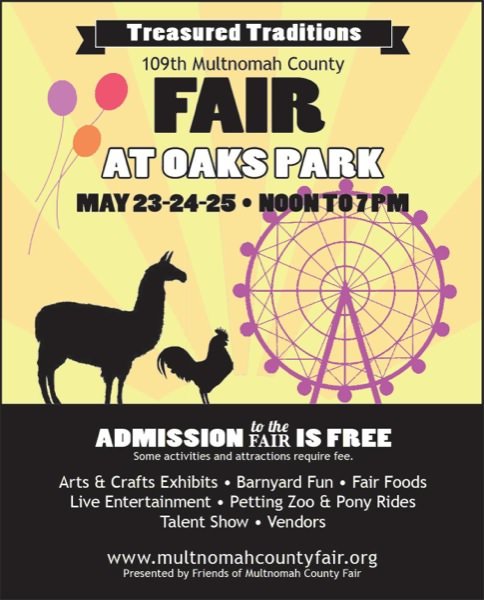 Multnomah County Fair
May 23, 24, 25, 2015
12-7pm Daily | Free
More info: multnomahcountyfair.org
If you are looking for an interesting activity other than/as well as the Portland Rose Festival this Memorial Day weekend, the Multnomah County Fair could be for you. Parking is free, entrance is free, and there will be Pig races, magic and musical performances, a petting zoo, lots of food, rides, and much more.
Events
All Alaskan Pig Racing
Pork-belly laughs are a certain result when the All-Alaskan Racing Pigs pay a visit. You may not think of little porkers when sports in the conversation, but these fuzzy little racers will make you recondisder the meaning of "professional athlete." And "fast food."
The 100-yard dash and the 50-yard high hurdles come to life as you have never experienced them before. When the runners have four legs the starts are even more exhilarating. When you carry around plenty of pading, you can bump and grind in the corners even more freely. And when you are a cute little pig, well, you can do just about anything you want. It's just plain funny!
Everyday at of the fair at 2pm; 4pm; 6pm!

Walk on Water
Water Balls are back!
Walk on the water … or you can run, skip, jump, roll and float on water. It's fantastic and soooo much fun. Battle Your friends. See who can stand the longest or walk the furthest.
It's a lot harder than it looks but you will laugh the whole way through it.
*Water Ball Fees Apply
Professor Bamboozle
Professor Bamboozle will entertain and amaze you with his show of illusions, bamboozles, and tricks.
———————————————
FREE PORTLAND: We give out 100s of $$$ in free tickets every week including to many of the top music and art venues in Portland. Join our newsletter if you like free stuff!
———————————————
Related Portland Events & Info
———————————————
Our new Portland Events App for PDX Pipeline is now available for iPhones, Android phones and iPads!
Now, you can have all of the great Portland events from our website in the palm of your hand when you're out on the town.
Download the App for iPhone here
Download the App for Android here
–————————
———————————————