From our sponsors: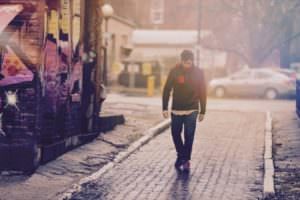 Why?
March 24, 2017
Doors 8p.m., Show 9 p.m. | $16 ADV, $18 Doors | All Ages
Tickets: revolutionhall.com
Revolution Hall
1300 SE Stark Street, Portland, OR
971 808 5094
The final words sung on the sixth album by WHY? are an apt place to begin: "Hold on, what's going on?" Because while there's much familiar about the oddly named Moh Lhean—mastermind Yoni Wolf's sour-sweet croon, his deadpan poet's drawl and ear for stunningly fluid psych-pop-folk-whatever arrangement—a great deal has changed in the four years that've passed since 2012's Mumps, Etc., an LP that honed the band's orchestral precision and self-deprecating swagger to a fine point. It's significant that this is the first fully home-recorded WHY? album since the project's 2003 debut. Made mostly in Wolf's studio and co-produced by his brother Josiah, the result is obsessive, of course, but also intimate, and flush with warmth and looseness. But the biggest transformation is a bit subtler. After years of eying his world, in part, with a cynical squint, Wolf here learns a new mode. While Moh Lhean never stoops to outright optimism, it chronicles our hero finding peace in the unknowing, trading the wry smirk for a holy shrug, and looking past corporeal pain for something more cosmic and, rest assured, equally weird.
A low tone opens the album on "This Ole King" as acoustic pluck and upright bass form a Western bedrock beneath Wolf's fragile voice. But as the song pushes on, the playing gets brighter and the vocal becomes a mantra-like hum inspired by Ali Farka Touré's blues, before rolling into a second part rich with chiming keys and twisting harmony—Brian Wilson's kaleidoscopic vision of pop. If there's new litheness here, it's probably because Wolf spent much of the time between albums collaborating—with ex/muse Anna Stewart as the fuzz-pop duo Divorcee, and MC Serengeti as the puckishly depressive Yoni & Geti. And if there's a lithe newness, it may be that Wolf excised some nostalgia via his 2014 solo tapes—one re-recording choice raps from his own catalog, and another covering cuts by artists like Bob Dylan and Pavement. It's no wonder, then, that "The Water" handily morphs a moody folk tune into some strange new form of full-band dub. Or that "One Mississippi" bounces along happily over a flurry of bizarre percussion, whistled melodies, and trippy synthesizer blips. Perhaps most impressive is "Consequence of Nonaction," which vacillates between a quiet meditation for guitar/voice/clarinet, and wild, sax-strewn astral art-funk.