From our sponsors: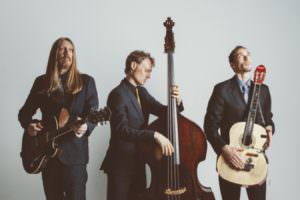 The Wood Brothers
March 10, 2017
Doors 7 p.m., Show 8 p.m. | $23 ADV, $25 Doors | 21+
Tickets: aladdin-theater.com
Crystal Ballroom
1332 W Burnside St, Portland, OR 97209
The cover of The Wood Brothers' gorgeous new album, 'Paradise,' is adorned with an illustration of a mule staring at a carrot dangling just inches in front of its mouth. The carrot, though, is hanging from a stick affixed to the mule's own head. "In some ways, he's already got it," explains guitarist Oliver Wood. "And in some ways, he'll never have it." That paradox is at the core of 'Paradise,' an album about longing and desire and the ways in which the pursuit of fulfillment can keep it perpetually out of our reach. It's a beautiful collection, the band's most sophisticated work to date and also their most rocking, with bassist Chris Wood playing electric on tracks for the first time. Recorded at Dan Auerbach's Easy Eye studio in Nashville, 'Paradise' captures the latest chapter in the ongoing evolution of a band—and a family—navigating the joy and challenges of a life in music.
Dubbed "masters of soulful folk" by Paste, The Wood Brothers released their debut studio album, 'Ways Not To Lose,' on Blue Note in 2006. You'd be forgiven at the time for expecting it to be something of a side project. Chris Wood already had legions of devoted fans for his incomparable work as one-third of Medeski Martin & Wood, while his brother Oliver toured with Tinsley Ellis before releasing a half-dozen albums with his band King Johnson. Almost a decade later and with drummer Jano Rix added as a permanent third member, it's become quite clear that The Wood Brothers is indeed the main act.
'Paradise' follows the band's acclaimed 2013 release 'The Muse,' which was recorded almost entirely live around a tree of microphones in Zac Brown's Southern Ground studio. Hailed previously by the New York Times for their "gripping" vocals and by the LA Times for their "taught musicianship," the brothers found the live setting to be a remarkable showcase for their live chemistry and charismatic magnetism. But when it came time to record 'Paradise,' their fifth studio album, the band knew the music
called for a different approach.
"For this album, we wanted to have a more up-close and dry sound," explains Chris. "I worked on another record at Easy Eye and I just loved the room. Dan's studio is cool because it's not old, but it feels that way when you walk into it. It reminds me of Sun Studios. It just has that feeling of a small room with natural compression, and I think you hear that in the sounds on the record."