From our sponsors: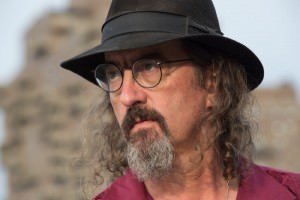 James McMurtry
June 7, 2015
Doors 7 p.m., Show 8 p.m. | $20 ADV / $25 Doors | Minors OK w/ Guardian
Tickets: aladdin-theater.com
Aladdin Theater
3017 SE Milwaukie Ave Portland, OR 97202
(503) 234-9694
James McMurtry will launch an extensive U.S. tour supporting his elegant new release Complicated Game with stops in New York City, Nashville and other major markets. "Back before Napster and Spotify, we toured to promote record sales," McMurtry says. "Now we make records to promote tour dates." Clearly, the sea change has only inspired the singular songwriter. "At a stage where most veteran musicians fall into a groove or rut, McMurtry continues to surprise," Texas Music magazine recently noted. "[Complicated Game] is a collection of narratives as sharply observed as any from McMurtry, but with a contemplative depth that comes with maturity."
Indeed, McMurtry's first collection in six years spotlights a craftsman in absolutely peak form as he turns from political toward personal ("These Things I've Come to Know," "You Got to Me"). "The lyrical theme is mostly about relationships," the longtime Austin resident says. "It's also a little about the big old world verses the poor little farmer or fisherman." Either way, McMurtry spins his stories with a poet's pen ("Long Island Sound") and a painter's precision ("She Loves Me") throughout.
Folks notice Complicated Game delivering McMurtry's trademark story songs time and again ("Copper Canteen," "Deaver's Crossing"). "[McMurtry] takes listeners on a road trip of unprecedented geographic and emotional scope," No Depression raves of the new record. "Lyrically, the album is wise and adventurous, with McMurtry — who's not prone to autobiographical tales — credibly inhabiting characters from all walks of life." "[McMurtry] fuses wry, literate observations about the world with the snarl of barroom rock," National Public Radio echoes. "The result is at times sardonic, subversive and funny, but often vulnerable and always poignant."
Longtime fans know McMurtry's vibrant vignettes have turned heads for a quarter century now. "James McMurtry is one of my very few favorite songwriters on Earth and these days he's working at the top of his game," says Americana all-star Jason Isbell. "He has that rare gift of being able to make a listener laugh out loud at one line and choke up at the next. I don't think anybody writes better lyrics." Yes. Spin "South Dakota." You'll hear. "They took their time with this one," Texas Music magazine notes, "and it was well worth it. He's always been wise beyond his age, but middle age suits him well."
Max Gomez
The most northern of the New Mexico pueblos, the hamlet of Taos, sits approximately 7,000 feet above sea level. It is an hour and half drive north of Santa Fe, or rather, just remote enough to stave off the casually curious person. Fiercely independent, the town, steeped in natural beauty, has long attracted artists and freethinkers of every stripe. It is within this bouillabaisse of nature, art and spirituality that we encounter Max Gomez. A young singer-songwriter in the seasoned vein of Jackson Browne and John Prine, Gomez grew up splitting his time between the sloping mountains of Taos and, for a period, the rolling plains of Kansas. On his family's ranch in Kansas, Gomez still lends a hand with chores but relishes the time he can spend out on the lake practicing the art of fly-fishing. But it is in Taos, where he was ultimately inspired to explore his art and the ethos behind it.