From our sponsors: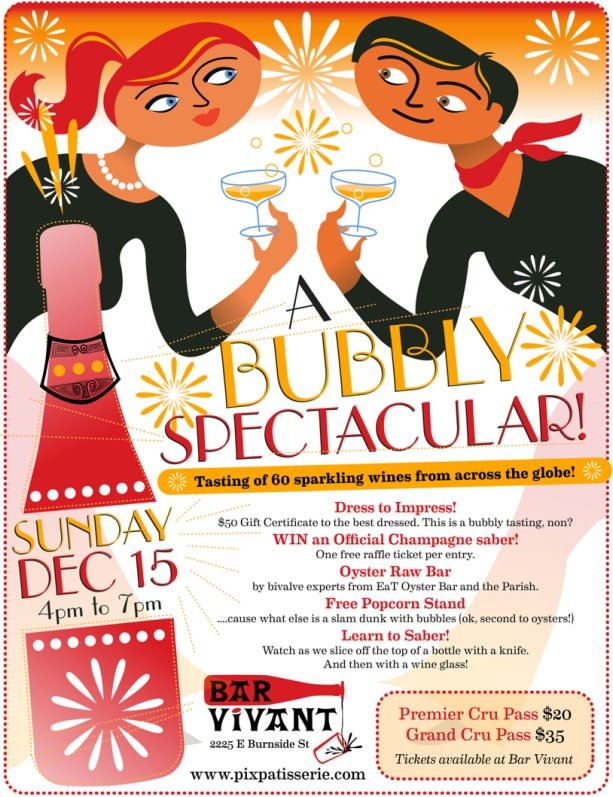 A Bubbly Spectacular
December 15, 2013
4-7 p.m. | $20-$35 | 21+
More info: pixpatisserie.myshopify.com
Bar Vivant
2225 E Burnside St, Portland, OR 97214
(971) 271-7166
Celebrate the art of making (and drinking) bubbles! Bar Vivant is hosting an afternoon exclusively dedicated to sparkling wine. White or rosé, sweet or dry, inexpensive or over the top – we will have it all!
60 corks will be popped from Champagnes, Proseccos, Crémants, Sekts, Cap Classiques and, of course, our local favorites. This open tasting will educate and tantalize your taste buds. By the time New Year's Eve rolls around you'll know what you want to pop open and it sure won't be a bottle of Korbel.
But WAIT! There's more …
Dress to impress! $50 gift certificate to the best dressed. This is a bubbly tasting, non?
Win an official Champagne saber! One free raffle ticket per entry.
Oyster Raw Bar by bivalve experts from EaT Oyster Bar and the Parish.
Free Popcorn Stand … because what else is a slam dunk with bubbles (ok, second to oysters!)
Learn to Saber! Ever open a bottle of sparkling wine by slicing the top off with a knife? How about with a wine glass? A sure fire way to impress your friends – just don't hit them in the face with the cork! Safety first as we show you the secrets of sabering
Premier Cru Pass $20 Includes tastes of 40 wines
Grand Cru Pass for $35 Includes access to all 60 wines including rarities and the Spécial Club table.
Tickets available at Bar Vivant starting November 15 with a limited number at the door