From press release: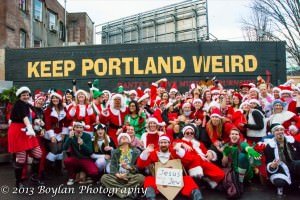 Stumptown SantaCon 2015
December 19, 2015
3 p.m. | FREE
More info: Facebook
See Location Starts Below

COSTUME EVENT – Theme: NEON Lights – Be Illuminated – Santa, Christmas, Winter holiday or Hanukkah COSTUMES ARE REQUIRED. Our featured charity is the Portland Police Sunshine Division.
Stumptown Events Inc., a 501(c)(3) Oregon non profit, hosts participant driven, costume themed progressive street theater events that promote local charities. Our dream is to bring a city scale festival party, dancing, joy and playfulness to our community. We invite you to participate, don't just be a spectator – be spectacular.
Stumptown SantaCon 2015: Neon Lights begins at five anchor venues at 3:00 pm and ends at 9:00 pm with a street party in the Old Town entertainment district.
You don't have to drink to enjoy this party!
Yes: make friends. Yes: bring something fun and unexpected our city.
This year, Santas are being asked to only enter venues on the approved Stumptown SantaCon list. Some venues don't want the crowds who chase away regulars.
3:00 – 5:00 pm Start off at one of FIVE ANCHOR VENUES: Splash Bar, Fifth Ave. Lounge, Shake Bar, Barrel Room and Dixie Tavern
5:00 – 9:00 pm: North Pole Street Dance Club, Splash Bar, Fifth Aveue Lounge, Shake Bar, Barrel Room, Dixie Tavern, Fortune, Boiler Room, Jones Bar, Hobo's, Mi Mero Mole, Old Town Pizza, Silver Dollar Pizza II, The Tube PDX and Old Town Subway.
For a $10 donation to the charity, these participating venues have agreed to waive their regular cover charge (if they have one) after our event from 9:00 pm until 12:00 midnight with a Stumptown Events Wristband: Splash Bar, Fifth Ave. Lounge, Shake Bar, Fortune, Tube, Barrel Room, Dixie Tavern, Big Trouble, Dirty, Embers, Hobo's, Silver Dollar Pizza II, The Plank and Old Town Subway.
Wristbands will be available at the anchor venues and other locations throughout Stumptown SantaCon 2015
THE RULES:
1) This is a 21 + event.
2) My name is Santa. Your name is Santa. We are Santa. Who's in charge here? Santa!
3) Wear a Santa suit! Or be an elf! Or reindeer! Get in the holiday spirit. Wearing just a Santa hat with regular clothes is meh.
4) Santa will bring cash and tip. No cards! No complex orders! Lines will be long, so keep it quick and simple. Remember to TIP!
5) Eat and drink in the venues hosting us. No Open Containers outside of the venues.
6) Pace yourself. Know your limits. Remember to hydrate and eat! Santa doesn't drink and drive! Take a bus, cab, Uber, or Lyft.
7) Use crosswalks and obey all traffic laws.
8) Take lots of photos or videos – post or tag us on our wall.
9) Be polite to venue staff, other patrons and those not with our event.
10) Obey the police and security.
PHOTOS
We encourage our attendees to take photos and share them with each other and us. With that, we ask that all attendees be respectful to each other when sharing online.
By attending this event, you grant to Stumptown Events Inc., its representatives and employees the right to take photographs of you and your property in connection with the above-identified subject. You authorize Stumptown Events Inc., its assigns and transferees to copyright, use and publish the same in print and/or electronically.
You further agree that Stumptown Events Inc. may use such photographs with or without your name and for any lawful purpose, including for example such purposes as publicity, illustration, advertising, and Web content.
———————————————
Related Portland Events & Info
———————————————
FREE PORTLAND: We give out 100s of $$$ in free tickets every week including to many of the top music and art venues in Portland. Join our newsletter if you like free stuff!
———————————————
Our new Portland Events App for PDX Pipeline is now available for iPhones, Android phones and iPads!
Now, you can have all of the great Portland events from our website in the palm of your hand when you're out on the town.
–————————
———————————————