From our sponsors: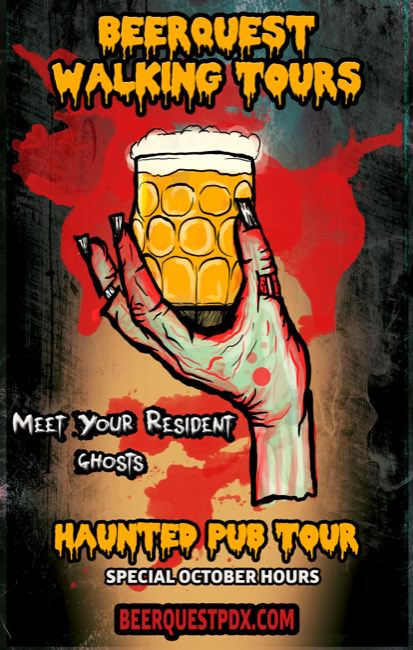 BeerQuest Walking Tours: Halloween Haunted Pub Tour
October 2016
Tuesdays, Thursdays-­Saturdays @ 7 p.m.
Sundays @ 3:30 p.m.
$45
Book Now: beerquestpdx.com
Skip the pop­up haunted houses this Halloween and meet the real ghosts of Portland, Oregon.
The Old Town Historic District in downtown Portland is filled with beautiful old buildings and cobblestone streets. It's an area of town lively with drinking establishments and restaurants. It's also the scene of a wicked and lawless past, and the perfect stage for our 2.5-­hour haunted pub tour.
BeerQuest Walking Tours takes you deep into two historic Portland bars for beer tastings and ghost stories. We delve into Portland's "wild days" when the city was overrun with bars, brothels, drug dens, corrupt police and more. Learn about the notorious gangsters who kidnapped unsuspecting sailors in the "Shanghai" tunnels and hear chilling stories of first­hand accounts of recent paranormal encounters.
The tour is 2.5 hours and includes 7 craft beer samples (6 oz pours) per person. Samples include award-­winning local beers from Kells Irish Brewing and Old Town Brewing.
Get your tickets today at www.beerquestpdx.com