From our sponsors: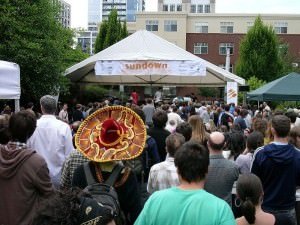 2014 EcoTrust Sundown Summer Concerts
Thursdays in July (10, 17, 24, 31), 2014
5:30 – 8:30pm | FREE | All Ages
More info: ecotrust.org/sundown
Ecotrust
721 NW 9th Ave.
Portland, OR 97209
Ecotrust heats up July evenings with the fifth edition of the Sundown Concerts. Sundown is quintessential summer in Portland – equal parts indie concert, block party, and classic Portland street fair. It's back, for an even better fifth year, Thursdays in July starting 7/10 at 5:30 pm, at the Ecotrust Natural Capital Center. And it's still free.
Each evening, the musical performances will be complemented by a themed street fair-style Showcase, featuring over 40 organizations working in the Pacific Northwest, delivering inventive solutions within conservation and environmentally-responsible enterprise. These family-friendly events feature the "Sundown Kid's Corner" hosted by Metro Portland's Kids Calendar, with art and educational activities to keep the little rockers happy.
Cold frothy beverages and tasty local fare will be provided by Hot Lips Pizza and Laughing Planet. The series will be powered by a green power source.
Schedule
JULY 10 | ENERGY
Music: Portland Cello Project – A whole evening of the famed "All Ages Dance Party"
JULY 17 | WATER
Music: Magic Mouth with Brainstorm
JULY 24 | FORESTRY
Music: The Builders and the Butchers with Melville
JULY 31 | FOOD
Music: Alela Diane with Lost Lander
About Ecotrust:
Ecotrust is working to build a new economy that restores nature and invests in people. Ecotrust's many innovations include co-founding the nation's first environmental bank, starting the world's first ecosystem investment fund, creating a range of programs in fish- eries, forestry, food, farms and indigenous affairs, and developing new scientific and in- formation tools to improve social, economic, and environmental decision-making. Ecotrust works locally in ways that promise hope abroad, and it honors and supports the wisdom of Native and First Nations leadership in its work.