From press release: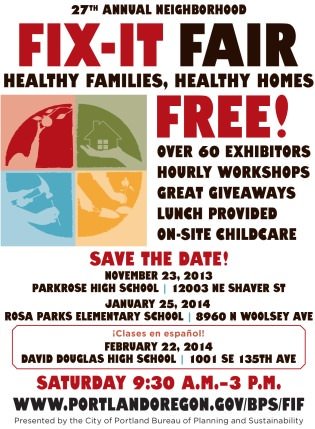 Fix-It Fairs
Free | 9:30 a.m. – 3 p.m.
More info: portlandoregon.gov
Fix-It Fairs are free events where you can learn simple and effective ways to save money at home and stay healthy this winter and beyond. Featuring exhibits from numerous community partners, these events also include an extensive schedule of workshops held throughout the day.
Experts will be available to talk with you about water and energy savings, personal health and healthcare, food and nutrition, community resources, recycling and yard care, lead testing and more!
Special workshops taught in Spanish are offered at the David Douglas Fair in February. Free professional childcare and lunch is provided at each Fair.
The 2013 – 2014 Fix-It Fair schedule:
9:30 AM – 3:00 PM, Saturday, November 23, 2013
Parkrose High School, 12003 NE Shaver St
9:30 AM – 3:00 PM, Saturday, January 25, 2014
Rosa Parks Elementary School, 8960 N Woolsey Ave
9:30 AM – 3:00 PM, Saturday, February 22, 2014 ¡Clases en español!
David Douglas High School, 1001 135th Ave
Fix-It Fairs are presented by the City of Portland Bureau of Planning and Sustainability with support from the following sponsors: Energy Trust of Oregon, Pacific Power, Portland Water Bureau and KUNP Univision.