From our sponsors: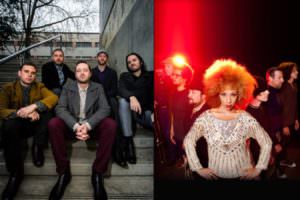 Orgone & Monophonics: West Coast Soul Tour
February 18, 2017
Doors 8 p.m., Show 9 p.m. | $15 | All Ages
More info: aladdin-theater.com
Aladdin Theater
3017 SE Milwaukie Ave, Portland, OR 97202
"One of the best live soul bands I have ever seen!" – Al Bell (Record producer, songwriter, executive, and co-owner of legendary Stax Records)
Raised amid the rich musical culture and history of the San Francisco Bay Area, Monophonics proudly carry the torch through the generations into today's musical landscape. Holding on to tradition, but by no means purists of any kind, they play their own brand of music known as "Psychedelic Soul."
The 2012 release of Monophonics last album In Your Brain saw the band pulling influences from such acts as early Funkadelic, Sly and The Family Stone and the The Temptation's Norman Whitfield produced records. With the new album, Sound of Sinning (out now on Transistor Sound Records), the band has grown in all areas of record making and felt a need to explore other important influences. While the group has come to cherish these inspirations, with Sound of Sinning they started venturing beyond, to the groups that were inspiring those soul acts to embrace the psychedelic sound of the 60's and 70's. Bands such as The Zombies, The Beatles, Beach Boys and Pink Floyd. Even with the experimentation of new musical territory, they display the sound that people know and love about Monophonics. Touching on Northern soul, doo-wop, rock and roll, Psych pop, and cinematic music, Monophonics show off their diversity while remaining true to their roots. Overall it's heartfelt music and old school vibes, without losing sight of the present. This is music steeped in that timeless feeling when people could write and produce songs that you could listen to over and over again. Sound of Sinning was produced by Kelly Finnigan & Ian McDonald and recorded on an old Tascam eight-track 1/4" tape machine at Transistor Sound Studios in San Rafael, CA.
Orgone
or·gone (ôr'gōn) noun
1. A universal life force, a cosmic unit of energy, the creative force in nature.
2. Eight souls from Los Angeles who will move your ass and melt your face.
Pronounced with a long second "O," the Los Angeles band Orgone is dedicated to heavy, raw, adrenaline-fueled funk and sweat-dripping soul. With a core rhythm section of close friends and self-taught musicians steeped in local DJ culture, Orgone has spent the last decade expanding their roster and evolving a sound rooted in old school respect but pulsing with the force of the new millennium. Orgone has become a staple on the festival circuit while gaining a reputation among fellow artists as one of the baddest go-to backing bands on the planet. Always evolving musically and cosmically, Orgone continues to connect with kindred musical spirits throughout the universe with relentless touring and the upcoming release of their fifth full-length album.
Starting out as an instrumental five piece by friends with a love of funk records, Orgone cut their teeth putting their own gritty takes on cuts by the Meters, Booker T. & the MGs, Grant Green and Funkadelic among others. In 2002, the band independently released Orgone, a collection of tough, stripped-down, funk instrumentals that Relix Magazine called "intoxicating" and that quickly became a favorite of die-hard, funk fans. Orgone solidified that underground respect in 2006, adding a powerful horn section and releasing their second album, Bacano, a set of all-original, cold-blooded funk gems in the classic vein of War and Mandrill with improved, warm, organic production that matched the evolution of the band's sound. The release of their cover of "Funky Nassau" on both 7″ and 12″ became a an instant dance floor classic, inspiring a club-edit by renowned DJ Danny Krivit and paving the way for The Killion Floor in 2007, Orgone's first full-length album for the legendary Ubiquity Records.